Tempe Arts Festival At Mill Avenue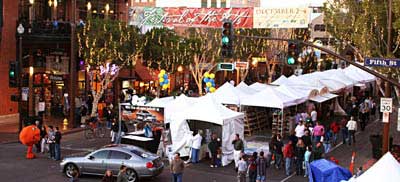 Tempe Convention and Visitor's Bureau
The Tempe Arts Festival is a bi-annual event held each Spring in March and Fall during early December. Each Festival attracts about 250,000 visitors over a three-day weekend. This award-winning arts festival ranks in the Top 20 Art Festivals in the country by Sunshine Artist and boasts the "Pinnacle Award" awarded by the International Festival and Events Association.
Each Spring and Fall, the Tempe Downtown Mill Avenue District comes alive as art enthusiasts converge to shop over 400 artists booths that each feature a uniquely different selection of handcrafted items from ceramics to wearable art. One of a kind hand-made creations make the Tempe Arts Festival a distinctive shopping experience.
It's A Lot More Than Shopping
The Festival is a "Happening". The streets to central downtown Tempe are closed to traffic making it a very pedestrian-friendly experience. Entertainment stages feature well-known local musicians including bands and vocalists that entertains festival-goers. Past entertainers have included the Gin Blossoms and Margo Reed. In addition to staged entertainers, street performers are out in abundance. A portion of the Festival proceeds benefits local charities.
The Festival Food Court, which is located on 6th Street east of Mill Avenue features festival food that can be enjoyed in the shade seating in 6th Street Park. Mill Avenue District restaurants, cafes and bars also offer special festival menus.
The Arizona Wine Festival is a new addition where wine makers offer wine tastings and sell unique boutique wines. Festival attendees must be at least 21 years of age to enter this area located at 7th Street and Centerpoint.
Kids Innovation Station
Currently sponsored by Centerpoint Condominiums in collaboration with Arizona State University and Herberger College For Kids, the Kids Innovation Station includes interactive education with hands-on opportunities to learn about the arts.
For More Information