Like all Phoenix area lakes, Bartlett Lake is noted for its spectacular views of surrounding desert mountains and Saguaro-studded foothills. In the spring when cactus are in bloom and wildflowers dot the landscape, Bartlett Lake is incredibly beautiful. Formed by Bartlett Dam and fed by the Verde River, these pristine waters are very popular favorites among water recreation enthusiasts.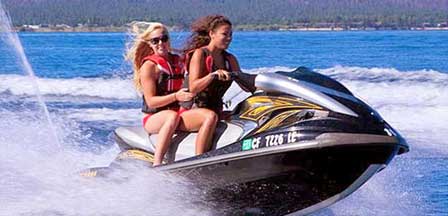 Surprising to many, Bartlett is the second largest lake in the Phoenix and Scottsdale area behind Lake Pleasant. When full, Bartlett Lake has over 2,800 acres of water surface, is about 12 miles long, and has an average depth of 100 feet with a maximum depth of 174 feet. The lake has two contrasting sides with gently sloping beaches on one side and mountains on the other.
With its vast amount water surface and length, speed boats can let loose. Strap-on the water skis, jump-on the jet skis, and hang-on tight to your tubes. Jet ski rentals are available at Bartlett Marina which makes it easy and convenient. Or bring your own and launch on convenient and paved launch ramps.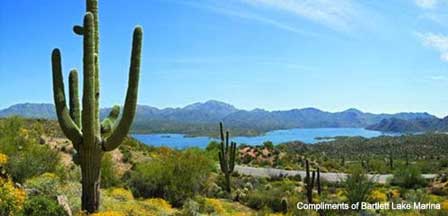 Bartlett Lake Marina
The marina offers all the amenities and convenience for a great day on the lake. Wet-slip and dry boat storage. Tonto Forest passes, live bait and fishing supplies. A full service fuel dock and a pump-out station. Its dock and convenience store is stocked with snacks, beverages and boating accessories. Ask about its Boat Club Membership which gives access to a wide range of boats at a very affordable monthly fee.
Party up. The marina offers a 45 foot, 2 story party pontoon yacht for groups up to 20 passengers. It includes a top deck with outdoor patio furniture and a sliding board. Fire-up the barbecue grill, throw on the burgers. There is a bar and sink on board. Bring a designated driver, you don't want to damage this expensive puppy.
Here's a real deal. The Bartlett Lake Marina features its 40 foot Aqua Lodge Houseboat with all the conveniences of home. Plenty of sleeping room with a private bedroom, sleeper sofas, and loft sleeping area. It has a complete kitchen with refrigerator, electric range, microwave, toaster, blender, coffee makes and all kitchen utensils. With its patio furniture and a barbecue grill and you're all set for a great experience.
Boating, Camping, Fishing and Picnicking At Bartlett Lake
Dispersed shoreline camping is available at Bartlett Flat and RV camping is available at Yellow Cliffs. Boat launches are located at Yellow Cliffs, Bartlett Flat and at Bartlett Marina. Note that motors with a greater noise level of 82 decibels are prohibited.
There are 4 ramadas with picnic tables and grills at Yellow Cliffs and a picnic area at Bartlett Flat. Fishing varieties include Large Mouth and Small Mouth Bass, Crappie, Catfish and Bluegill. Bartlett Lake Marina has all the supplies you need to go fishing. There have been many trophy size catches at Bartlett.
Where Is Bartlett Lake?
Located in the wilderness area of the Tonto National Forest, the lake is about 48 miles northeast of Phoenix AZ, 32 miles from Scottsdale and about 22 miles northeast of Carefree, Arizona. Come, spend the day on the lake boating, picnicking, or hiking. Or spend several days camping on the lake's shoreline.
View Larger Map
Directions To The Lake
To get to Bartlett Lake, you must go through Carefree, Arizona. From there take Cave Creek Road (Forest Road 24) East to the Bartlett Dam Road (FR19) junction. Turn right on Bartlett Dam Road for about 13 miles to the lake.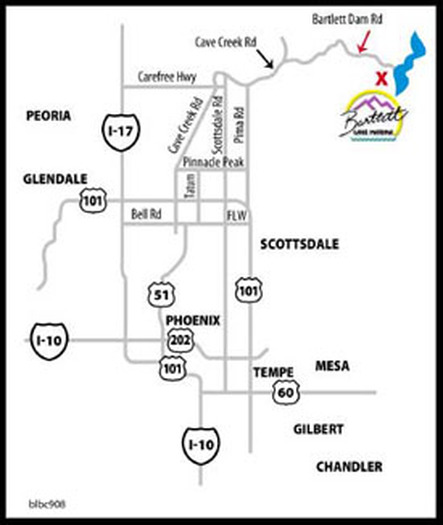 Map Compliments of Bartlett Lake Marina
Helpful Related Links
Tonto National Forest Bartlett Reservoir
Bartlett Lake Marina
20808 E Bartlett Dam Rd
Scottsdale, AZ 85263
(602) 316-3378