Mormon Lake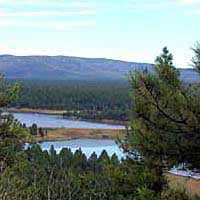 Mormon Lake, 29 miles southeast of Flagstaff Arizona is the largest natural lake in Arizona. Often during severe droughts, the lake recedes and sometimes even completely dries up. It is fed from the rain and snow melt in the nearby mountains. Mormon Lake is surrounded by Ponderosa Pine forests in a lush setting. At an elevation of about 7,000 feet, the summer temperatures are cool and refreshing and rarely reaches 90 degrees F.
It is only about 17 miles southeast of Upper Lake Mary. If you are an outdoor enthusiast and love fishing, camping and hiking, Mormon Lake is a great choice. There is an abundance of wildlife including herds of elk and deer with Pronghorn antelope grazing the prairies of the southern points of the recreation area. There are even nesting pairs of bald eagles in the area. The area features some the finest cross-country skiing during the winter months. Also enjoy boating and windsurfing.
Fishing At Mormon Lake
Fishing varieties include stocked trout, northern pike and catfish.
Boating, Camping and Facilities
There are 43 single unit campsites at Dairy Springs and Double Springs Campgrounds with picnic tables, fire rings, and cooking grills, Drinking water and vault toilets at the campgrounds, Hiking trails are nearby and equipment rentals are available at Mormon Lake Village.
Season and Fees
Campground season is May 1 to the end of September. Fees apply during the season.
Getting To Mormon Lake
From I-17 in Flagstaff, exit southeast on Lake Mary Road to the Forest Road 90 intersection. Turn west on FR 90 and drive about 4 miles to the lake.
More Information
Mormon Lake Ranger District
4825 S. Lake Mary Road
Flagstaff AZ 86001
(928) 774-1147
Other Lakes Nearby
Mormon Lake Area Map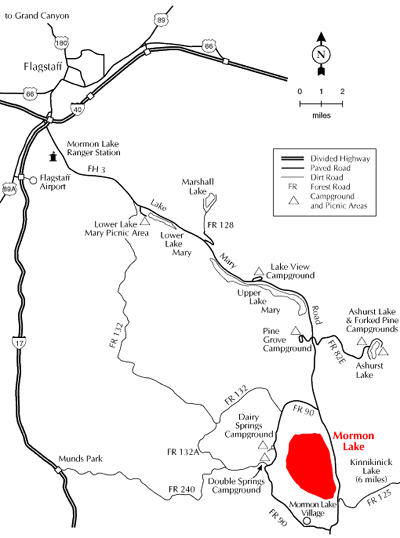 >Map compliments of Coconino National Forest