Sedona Arizona & Oak Creek Canyon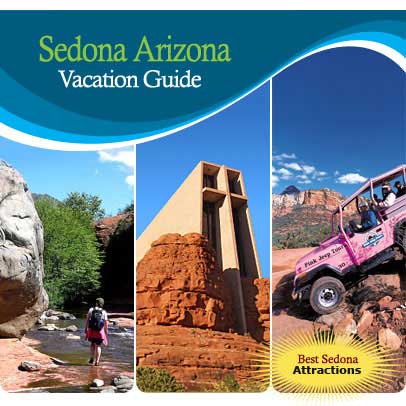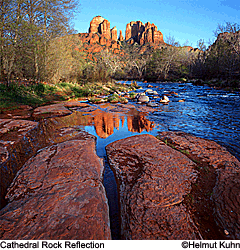 Sedona Arizona, world famous destination of the world famous. Everywhere you look, it's breathtaking beauty. At the base of Oak Creek Canyon, Sedona is a showcase of red rock mountain buttes painted by nature against clear blue skies. Oak Creek meanders alongside Sedona with shimmering glow where you'll find worldclass resorts that offer just about any amenity you can imagine.
The drive up Oak Creek Canyon AZ has been described by Rand McNally as one of America's Top 10 scenic drives. A winding climb from Sedona through Oak Creek Canyon offers striking panoramic views of the flowing creek and lushly green forest. Blended into the scenery are lodges, vacation rentals and quaintly quiet bed and breakfast accommodations. Hike with nature's splendor, fish for trout or just sit awhile and soak up the serenity. Oak Creek Canyon is truly the place to relax with nature.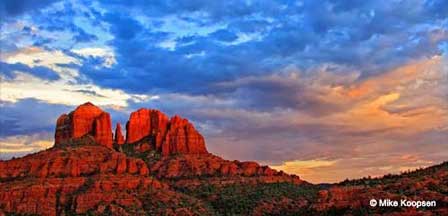 Some say Sedona feeds the soul. The USA Weekend Annual Report says, "Sedona is one of the 10 most beautiful places in America". It's home to artisans that fill the galleries with fine paintings, sculptures and other works of art. Sedona is a shopper's paradise where you'll find the contemporary, southwestern flair, the unique and the unusual.
Sedona Arizona and Oak Creek Canyon are rich in ancient history. It's an archeological goldmine for those that enjoy historical tours. Visit the historical spots where you'll discover cave dwellings of the Sinaqua Indians carved into the limestone cliffs above the Verde Valley. Perhaps nearby you'll want to experience canoeing the Verde River through shallow rapids, past native wildlife to a first-hand look at prehistoric Indian ruins.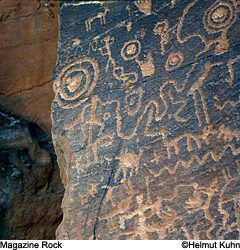 Depending upon how adventurous you are, consider a jeep tour of the rugged plateaus and historic trails with spectacular views of the Sedona valley area. Or you might consider a gentler ride at the lower scenic elevations. A tour of the historic "stage coach" route where you'll enjoy the views along the old Mogollon rim. And if you have little fear of heights, you'll enjoy the jeep tours that hug the rugged cliffs for the most amazing views of Sedona and Oak Creek.
The Native Americans consider the Sedona area a spiritual vortex where the earth's electromagnetic energy is focused on those visitors that desire to feel and experience the spiritual and healing energy. Supposedly the magnetic energy is about nurturing and opening the heart to promote a stronger connection to one's emotional side. According to believers, the Sedona area offers many vortices that are nearby and easily assessable.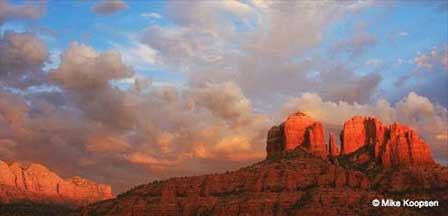 Worldclass resorts, fine hotels and convenient motels area abundant in Sedona and Oak Creek Canyon. Each is unique to satisfy individual desires. Choose the downtown Sedona accommodations or those nestled along the banks of Oak Creek Canyon. The quaint and quiet seclusion in the forest or those surrounded by the towering red rock cliffs. Select from cottages, European style resorts and the romantic.
That's why over 3 million people visit Sedona AZ and Oak Creek Canyon every year. There's so much to do, to see and to savor. Go ahead, pamper yourself in world famous Sedona Arizona and the lovely Oak Creek Canyon and experience a most famous destination in the world.
Learn how you can help protect and preserve the beauty of Oak Creek Canyon. The Oak Creek Canyon Task Force is committed to "Leave No Trace" which encourages visitors to spend time in Oak Creek Canyon in an ethical way that minimizes negative impacts on its natural environment. The Leave No Trace message can be summarized as "Take only photos, leave only foot prints"
---
Sedona website offers an indepth look into Sedona, Arizona. Find informative articles, scenic attractions, historical landmarks, places to hike, a Sedona photo gallery and a Sedona Vacation Business Directory.
Other Local Information
Sedona Arizona
Related Sedona Interest
Sedona Arizona
Map & Directions Oak Creek Trail
Oak Creek Canyon Map & Directions
Oak Creek Canyon Photos By Koopsen
Oak Creek Canyon Vista Point
Sedona Aerial Photos By Koopsen
Sedona Winter Photos By Koopsen
Verde Canyon Railroad
The Wonder Of Sedona & Oak Creek