Apache Lake Arizona
Apache Lake sets alongside the Apache Trail, one of the most scenic drives in Arizona. Surrounded by the Superstition Wilderness and the Three Bar Wildlife Area, Apache Lake is created by Horse Mesa Dam and located between Canyon Lake and Roosevelt Lake, its sister-lakes on the Salt River.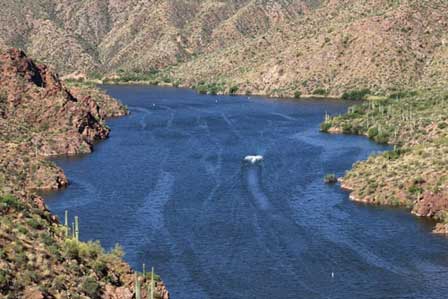 Apache Lake Arizona. © Alan Stark
Located about 65 miles northeast of Phoenix, Apache Lake is 17 miles long and a spectacular site for boating, fishing, water skiing, hiking, and camping. The lake's secluded coves and painted canyon walls are home to javelina, big horn sheep, deer, and a host of other desert wildlife.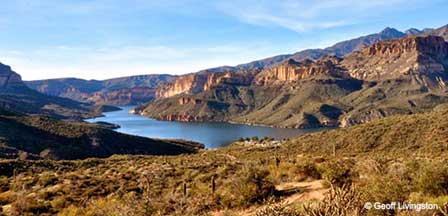 Apache Lake Fishing
Fish from the banks or fire-up the bass boat because both largemouth and small mouth bass are the prized catches along with crappie and walleyes.
Apache Lake Marina and Resort
Whether you're just spending the day at the lake or a weekend, the Apache Lake Marina and Resort offers comforts and amenities including a motel, gas station, coffee shop, a boat ramp, picnic supplies, dock and 12 trailer park units.
Camping At Apache Lake
The Burnt Corral Recreation site is located seven miles northeast of the Apache Lake Resort and Marina and provides 17 spaces for trailers which are less than 17 feet long. The site is open year-round and has boat launching facilities.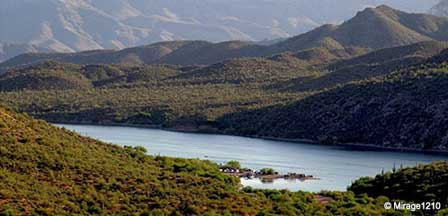 Getting To Apache Lake
From Phoenix Area. Take the Apache Trail north from Apache Junction past Canyon Lake to Tortilla Flats on paved roads. Travel another 15 miles, much of which is unpaved through some cliff-edged hair pin turns to Apache Lake.
From Globe Arizona. Take Highway 88 from Globe about 35 miles to Roosevelt Lake Dam, then turn south on the Apache Trail which is alson Highway 88. Apache Lake is about 5 miles form the dam.