Greater Phoenix, & Valley of the Sun Attractions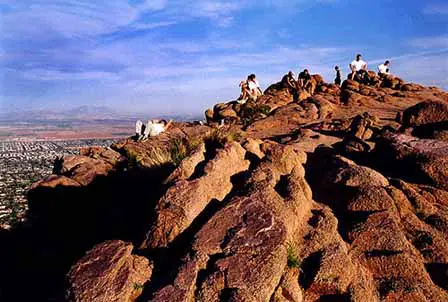 View From Camelback Mountain. RobertBody.com
Greater Phoenix is all grown-up now. It is one of country's largest metropolitan areas with a population of over 4.3 million residents but still is a city that has not forgotten its rich history. Look around. You see evidence of Native American culture, Spanish influences, and spirit of the old west interwoven into all aspects of modern day life in Phoenix, Scottsdale and its sister suburban communities.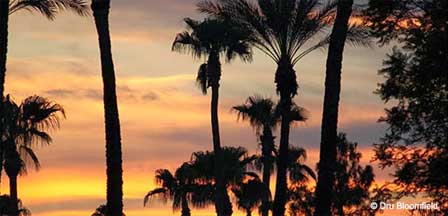 Yep. The Phoenix area still has real cowboys, wide-open desert with its forests of the stately Saguaro cactus, the essence of tranquility and most dramatic sunsets. Laying beyond the panorama of mountains, blue skies and sunshine is urban sophistication. World-class culinary destinations. Over 500 hotels and 40 luxury resorts. Over 200 golf courses and fiver major sports teams.
With its desert beauty, outdoor adventure, Native American tradition, spirit of the west, and melting pot of diverse culture, the entire Phoenix area is an ideal vacation destination for the adventurous, the romantic, and families of all ages. Golf, shop, trail ride, hike, bike, dine, indulge, or just bask in the sunshine. Phoenix is a perfect home base to venture-out with day trips to all the attractions Arizona has to offer.
Valley of the Sun Suburban Cities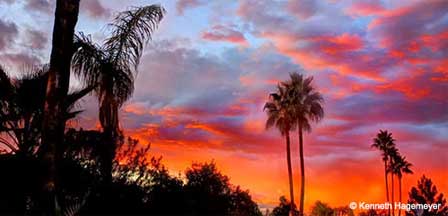 A Few Most Popular Things To Do
Boating, Water Skiing and Fishing. If you love water recreation, you'll find lots of big lakes in the Phoenix and Scottsdale area. Most offer boat rentals, general stores, tackle shops, restaurants and campgrounds. Some, like Canyon Lake and Saguaro Lake offer boat cruises.
Natural Treasures and Urban Hiking Trails. Drive to the eastern-most part of the valley to Apache Junction, Arizona and experience the iconic Superstition Mountains that hold the secrets of the Lost Dutchman Gold Mine. There are several urban hiking trails including the most popular hike trails at Camelback Mountain and Piestewa Peak.
Historic and Scenic Drives. If you love scenic drives without fear of heights, try the Apache Trail which is an old west stagecoach route and Apache Indian trading path. It begins in Apache Junction with paved road to Canyon Lake. At Tortilla Flats, the road turns to dirt with narrow turns along canyon walls to Apache Lake. The best time is spring when the weather is perfect and the trail is colorful with wildflowers and cactus blooms.
Day Trips From Phoenix. Scottsdale and Phoenix are the ideal home bases to take day trips and scenic drives to such popular Arizona attractions such as Sedona, Arizona and the Grand Canyon South Rim.
Related Phoenix Interest
Phoenix Arizona
Camelback Mountain
Desert Botanical Garden
Greater Phoenix Map
Greater Phoenix Things To Do
Japanese Friendship Garden
Mystery Castle
Hiking Papago Park
Phoenix Area Attractions
Phoenix Area Museums
Phoenix Arts & Theatre
Phoenix Bed & Breakfasts
Phoenix Boat Rentals
Phoenix Boat Tours
Phoenix Dude Ranches
Phoenix Events & Festivals
Phoenix Fishing Guides
Phoenix Grand Canyon Tours
Phoenix Horseback Riding
Phoenix Restaurants
Phoenix To South Rim
Phoenix Weather Info
Phoenix Zoo
Piestewa Peak Hiking
Rawhide Western Town
Roosevelt Lake Map & Directions
South Mountain Park
Metro Phoenix