Rainbow Lake. Lakeside, AZ In The White Mountains.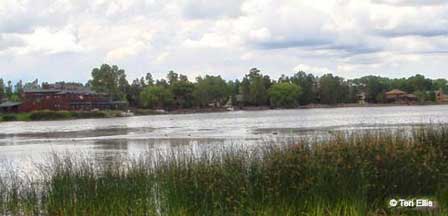 Location & Description. Mormon settlers created Rainbow Lake in 1903 by damming Walnut Creek which spawned the town of Lakeside, Arizona. The land surrounding the lake is privately owned limiting public access to a small parcel of land next to the dam. The lake is open to the public at that spot. The elevation of the lake is about 6,760 feet creating great, cool refreshing weather during the spring, summer and early fall. See the Pinteop Lakeside AZ Weather Chart.
Lake Size. The water surface of Rainbow Lake is about 116 acres with an average depth of 7 feet and a maximum depth of 14 feet.
Fish Variety. Fish species include Rainbow Trout, Largemouth Bass, Channel Catfish, Bluegill, Green Sunfish and illegally introduced Northern Pike. Catchable size rainbow trout are stocked in the spring and early summer.
Fishing. Since much of the shoreline is privately owned, the lake is best fished from a boat. Spring and early summer is the best time to fish for trout since those are the trout stocking periods. Trolling works well for trout. Casting with spinner baits, lures and plastic worm rigs works well for largemouth bass and northern pike. Fishing the bottom using nightcrawlers and chicken livers works well for channel catfish. State fishing licenses with trout stamps are required for anglers 14 and older. There is a daily bag limit of six trout for licensed anglers and three trout for unlicensed anglers age 13 or less.
Boating. Boats are restricted to electric or a maximum of 10 HP gas motors.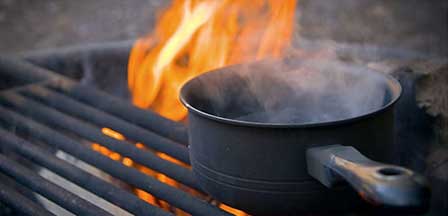 Camping, Hiking & Amenities. At the public access there is a public boat ramp, a paved parking lot and fishing pier, but no restrooms. The Lakeside Campground is just a few hundred yards from the dam on Highway 260, a quarter mile west of Porter Mountain Road in Lakeside AZ. The campground has 82 camping sites, vault toilets, potable water and firewood for sale. Call (877) 444-6777 for information and campsite reservations. Boat rentals are available from Rainbow's End Resort next to the public access area. Visitors will also find cabin rentals at Lazy Oaks where guests have the complimentary use of its two private fishing piers.
Directions. To reach public access, in Pinetop Lakeside turn south on Rainbow Lake Road or Lakeview from Highway 260.
Nearest Lodging. Pinetop Hotels are the nearest hotel and motel accommodations. Also see White Mountains Bed and Breakfasts.
More Information. Call (877) 444-6777 for lake information and campsite reservations.