What's The Weather Like in Flagstaff, AZ?
Because temperatures average 25 degrees Fahrenheit lower than the Phoenix area, Flagstaff is a favorite summer getaway from the desert area down south. Flagstaff, Arizona is high mountain forest country. At 7,000 feet elevation, you can expect four distinct seasons. Mild summers, golden colors of fall, snowy winters and meadows of wild flowers in the spring.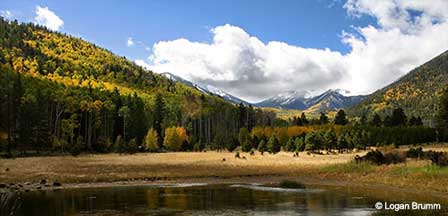 Current Temperatures and Weather in Flagstaff
Average Monthly Temperatures in Flagstaff, Arizona
This Flagstaff Weather Chart will help you plan the best time to visit Flagstaff. It shows the average high and low temperatures for each month of the year. It also reflects average rainfall, sunrise times and sunset times.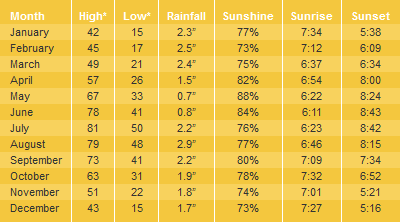 Related Reading, Attractions and Things To Do
Flagstaff Home Page
Winter Skiing At The Arizona Snowbowl
Snow Play For The Kids
Snow Skiing in Flagstaff
Snow Sledding in Flagstaff AZ
Lakes and Fishing in Flagstaff, Arizona
Snowbowl Scenic Drive
San Francisco Peaks
Humphreys Peak Hiking Trail
Flagstaff High Country