Chevelon Canyon Lake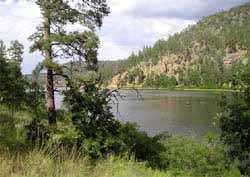 Compliments of Arizona Game & Fish
Location & Description. Chevelon Canyon Lake is quite remote and is a deep canyon lake that requires a relatively steep hike 3/4 of a mile to get to the waters edge from the parking area. Generally, only the most avid of anglers that are physically well-conditioned fish Chevelon Lake. However, those that do are rewarded with views of the most scenic trout lake in Arziona. It is simply gorgeous and panoramic with thick forested vegetation and trees that abut the lake. If you're seeking tranquilty, this is the lake of choice.
Chevelon sets at an elevation of about 6,300 feet and is 15 miles west of Heber-Overgaard, Arizona and about 60 miles northeast of Payson, Arizona.
Lake Size. The water surface of the lake is 208 acres with an average depth of 35 feet and a maximum depth of about 80 feet.
Fish Variety. Trophy size Rainbow and Brown Trout live here. It is stocked with fingerling Rainbows twice per year in the spring and fall.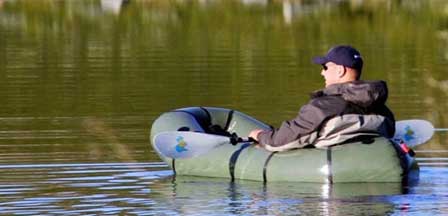 Fishing. Boats must be carried in. That's why it is popular with the float-tubers. Live bait is prohibited. Anglers have good luck with both lures and fly-fishing. Bring a variety of articificial flys and lures of differing colors and sizes. Trout between a 10 and 14 inch slot limit may not be possessed and trout taken from the lake must be killed immediately or released. A state fishing license with a trout stamp is required. The daily bag limit is six trout.
Boating. Boat motors are restricted to electric or 10 hp or less gas motors and must be carried down a 3/4 mile steep hill. This takes good physical condition. Be advised that any boat left at the lake because of lack of energy to carry it back out, is considered abandoned property after 24 hours and subject to confiscation.
Camping, Hiking & Amenities. Chevelon Canyon Campground is a primitive campground with six sites and a vault toilet. Each site has a picnic table and fire ring. Chevelon Crossing Campground, on FR 504 near its junction with FR 169, is another primitive campground with five sites and a toilet. Camping is free at both of these campgrounds. Access is restricted in the winter when roads are closed due to snow, generally November to late April.
Directions To Chevelon Lake
From Heber. Go north on Forest Road (Forest Road 504) for about 18 miles to Forest Road 169. Turn south (left) onto FR 169 and travel 9 miles to FR 169b. Turn east (left) on 169b and drive 2 miles to Chevelon Canyon Lake Campground. You must park your vehicle here and hike approximately 3/4 of a mile down a steep hill to reach the lake.
From Payson. Travel west on the Rim Road (Forest Road 300) from Highway 260 for 8.5 miles to FR 169. The road is paved to the Woods Canyon Lake turnoff; thereafter, the road is improved gravel. Turn north (right) on FR 169 and drive 12 miles to FR 169b.
More Information
Chevelon Hiking Trails
Arizona Fishing Laws