Bullhead City, Arizona Across From Laughlin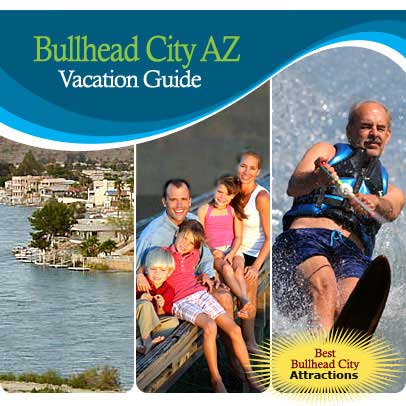 Bullhead City AZ sits on the eastern shores of the Colorado River just across the river from its sister-city of Laughlin, Nevada, a city of bright lights 24-hour entertainment and hot casino gambling action. Bullhead City on the other hand is quieter, laid-back kinda place with small western town charm.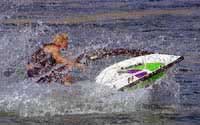 © City of Bullhead City
Both Laughlin and Bullhead City share something in common....the water recreation wonderland of the Colorado River and nearby Lake Mohave. Whether you choose to lounge of beach shores, jet ski, water ski or fish, there's plenty of water here to satisfy tourists of all ages.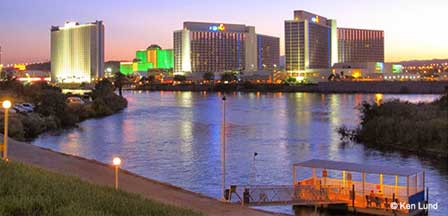 Over five million people every year travel to or through Bullhead City, a city of about 30,000 residents that balloons to thousands and thousands more during the spring and summer vacation months seeking to enjoy this oasis on the river. It's such a great place for outdoor enthusiasts that also find a thrill for casino entertainment and gaming.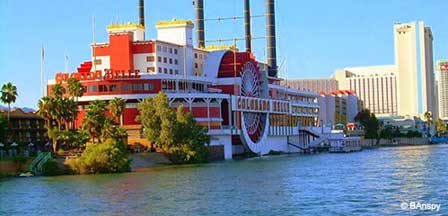 Bullhead City is not only a great vacation spot, it's also a great place to live that provides an ideal quality of family life. Bullhead is also a haven for retirement living. It is the economic hub for western Mohave County and has easy access to Kingman, Arizona (30 miles), Las Vegas (87 miles), Lake Havasu City (50 miles) and is about 250 miles northwest of Phoenix via Kingman. Bullhead City is also about 20 miles south of Lake Mohave and about 70 miles for the Lake Mead National Recreation Area which includes Hoover Dam and Lake Mead.
Bullhead City History
The town was first brought to life in the 1940s during the construction of Davis Dam. The town formed the headquarters for the dam's builders. With the evolution of Lake Mohave as a tourist destination, Bullhead City grew into the fabulous resort community it is today.
Things To Do In Bullhead City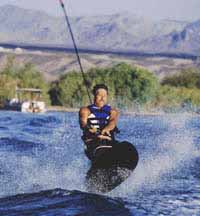 © City of Bullhead City
Of course, water recreation and great year-round weather are the main attractions in the Bullhead City area. But there is an abundance of outdoor adventure including hiking trails into wilderness areas, four wheeling and even the ghost town of Oatman, Arizona which has been transformed into a tourist attraction only about 28 miles northwest of Bullhead. Bullhead City also has an abundance of recreational spots for children.
The Bullhead City area also features fun annual events throughout the year including the following:
In Bullhead City
Bullhead City Gem & Mineral Show
Rotary Burro Barbecue
Bullhead City Hardyville Days
In Laughlin
Laughlin River Run
Laughlin River Days
Laughlin River Days
Laughlin Balloon Fest
In Lake Havasu City
Dixieland Jazz Festival
Snowbird Jamboree
Boat Parade of Lights
Where To Stay. Hotels, RV Parks & Campgrounds
Hotels and motels in Bullhead City> are typically less expensive than hotels in Laughlin across the river. The Bullhead City area has 21 RV parks and campgrounds including those at Katherine Landing at Lake Mohave. Camping is permitted on the shores of Lake Mohave and at designated point on unpaved roads.
Directions To Bullhead City AZ
From Phoenix. Take Grand Avenue West (US 60) to Wickenburg AZ. Then take US 93 north through Wikieup AZ to I-40 west through Kingman. In Kingman take the Bullhead City / Las Vegas exit and turn right at the signal at the end of the exit ramp. Continue west and take the Highway 68 ramp toward Bullhead City / Laughlin which is about 30 miles from Kingman. Highway 68 merges into Arizona Highway 95. Follow the signage into Bullhead City.The total distance form Phoenix to Bullhead City is about 250 miles.
More Information
Bullhead Chamber of Commerce
251 State Route 95
Bullhead City, AZ 86429
(928) 754-4121
City of Bullhead City
Laughlin Nevada

Map To Bullhead City, Arizona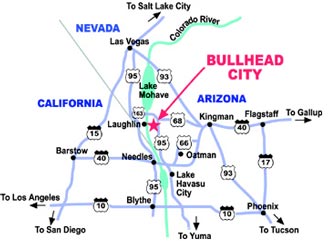 Compliments of the City of Bullhead City
Bullhead City Services
Along The Colorado River