Facts About Arizona
February 14, 1912 (Valentine's Day)
Phoenix AZ
Ditat Deus (God Enriches)
The Grand Canyon State
114,000 Square Miles (6th Largest State)
Palo Verde (Green Stick)
Saguro Cactus Bloom
Picture of and Description of Arizona Flag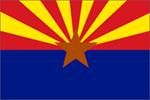 The Arizona Flag was designed by Colonel Charles W. Harris and was officially adopted as the state symbol of Arizona in 1917. The red and yellow rays represent the rays of sunshine and the original 13 colonies. Those were also the colors of the Spanish Conquistadors flag that entered into the territory in 1540. The copper star represents copper mining, the major natural Arizona resource.
Arizona Trivia
All of the New England states plus Pennsylvania would fit into Arizona
Arizona has more Native American Reservations than any other state.
Arizona has 26 mountain peaks above 10,000 feet of elevation. Humphreys Peak in Flagstaff, Arizona is the highest peak at 12,633 feet.
Has the largest stand of Ponderosa Pine in the world.
Arizona claims the 2 largest man made lakes in the country. Lake Mead on the border with Nevada and Lake Powell on the Utah border.
Arizona produces more copper than all other states combined. The amount of copper on the Arizona Capitol building is equivalent to 4,800,000 pennies.
The historic London Bridge was moved to Lake Havasu City in 1971.
Hottest temperature ever recorded in Arizona was 122 degrees at Lake Havasu City on June 29, 1994.
Coldest temperature ever recorded in Arizona was -40 degrees at Hawley Lake in Northeast Arizona.
Southern Arizona gets more sunshine than Florida or Hawaii.
Lake Powell has almost 2,000 miles of shoreline, more than the Pacific Coast.
More interesting quick facts and trivia about Arizona
Most Popular Things To Do In AZ
Additional Arizona Activities