The White Mountains in Arizona is high mountain country setting at elevations from 6,500 to over 9,000 feet. Sky-blue mountain lakes are surrounded by pineforests and lush grassy meadows. Bounding wildlife and Springtime wildflowers.It is pure tranquil solitude. Lakes in the White Mountains are the perfect respite getaway from the hot desert region to the south. Temperatures in the Arizona White Mountains average 25 to 30 degrees Fahrenheit cooler than the Phoenix area. See our Climate Chart showing average monthly and current temperatures.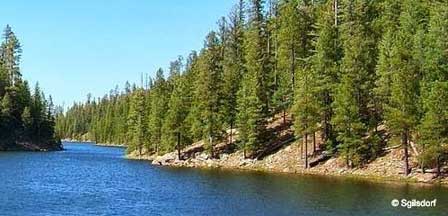 It's a true fisherman's paradise where most of the fish varieties are trout species including rainbow, brown and brook trout. You'll discover lakes in every direction that feature campgrounds, well-maintained picnic facilities, hiking trails, and great fishing. Some lakes are in the national forest while others are on public town property or the Fort Apache Indian Reservation. Most lakes in the White Mountain limit boat gas-driven motors to 10 HP and most prohibit swimming with few exceptions.
Most Popular Lakes in The White Mountains
Becker Lake. Located about 2 miles northwest of Springerville, Arizona, Becker lake is considered a trophy Rainbow Trout lake with some Brown Trout that migrate from the Little Colorado River. It has a water-surface area of about 107 acres when full. Boats are limited to a maximum 10 HP gas motors. Hike along two trails through the wildlife area. Camping at Becker is not permitted. Read more detail about Becker Lake.
Big Lake. Considered large for a White Mountains lake, it is one of the more popular lakes with a water-surface of 532 acres when full. Trout is the name of the game here. You'll find a store with boat rentals. Four campgrounds ring the lake featuring both tent camping and RV camping. Big Lake is located in the Apache-Sitgreaves National Forests about 26 miles southwest of Eagar AZ. Read more information about Big Lake.
Crescent Lake. Located only about two miles north of Big Lake, Crescent Lake sets at an elevation of about 9,000 feet. It is surrounded by lush forests and rolling meadows. Fly fishing is great with calm wind. Boat fishing is ideal and trout is the target. A concession store is on-site and offers boat rentals only during the season. Boats are limited to 10 HP. Camping is prohibited but is available at Big Lake. More detail about Crescent Lake.
Fool Hollow Lake. The perfect lake for kids that love to fish. There are some Rainbow Trout, but most species will be Largemouth Bass and Crappie. The lake is just two miles from Show Low, Arizona. Fool Hollow has 150 acres of surface water. Gas-driven boat motors are limited to 10 HP. Its campground includes 31 tent camping sites and 92 RV sites with water and electrical hook up. The lake is operated by county parks. More information on Fool Hollow Lake.
Hawley Lake. This is very scenic lake located on the Fort Apache Reservation Its 260 acres of water-surface is back-dropped with high mountain peaks and thick forest. Elevation is about 8,200 feet and surprisingly is open all year in spite of cold winter snow. Expect great trout fishing including ice fishing inthe winter. It has rental cabins and a campground. Located about 30 miles east of Show Low AZ, it operates strictly under Tribal regulations. Read more about Hawley Lake.
Luna Lake. Luna Lake is located just 3 miles from Alpine, Arizona and is the eastern-most lake in the White Mountains. Primary fish species are Rainbow and Cutthroat Trout. In fact the state record for cutthroat was caught a Luna Lake. Gas boat motors are limited to 10 HP. The Campground is beautiful and includes 40 camping sites. There is a small store near the dam that sells bait and snacks and offers boat rentals. Read more information about Luna Lake.
Lyman Lake. Lyman is the largest lake in the White Mountains area with over 1,500 acres of water-surface. That means power boating without any motor restrictions. The west-end of Lyman Lake is a "no-wake" area which provides added safety to swimmers. Its campground accommodates tent camping and RV sites. It also rents cabins and yurts. Lyman Lake sets at the lowest elevation in the White Mountains at 6,000 feet, making it an all-year lake although winters can become quite cold. More about Lyman Lake.
Rainbow Lake
. Interestingly most of the land surrounding Rainbow Lake is privately-owned, limiting public access to the lake to a small parcel of land near the dam. It is located in
Pinetop-Lakeside
and has a wide range of fish species including trout, bass, catfish, and some Northern pike. Gas-powered boats are limited to 10 HP. Boat rentals are available at
Rainbow's End Resort
near the lake. Lakeside Campground is close to the dam. Click here for more information about
Rainbow Lake
.
Show Low Lake. This is a small 100 acre lake but it is a deep with an average depth of 33 feet. Although fish species include Rainbow Trout and Largemouth Bass, the real enticement is it trophy-size Walleye. The last 5 state records were caught at Show Low Lake including the latest record at 16 pounds, 2 ounces. Its campground includes 75 sites with a fee-based dump station. A convenient store sells fishing supplies, snacks, and drinks and rents boats. Read more about Show Low Lake.
Woodland Lake. This is a very small lake with only 18 acres of water-surfacelocated in Pinetop-Lakeside, Arizona. It is part of Woodland Lake Park which closes daily at 8 PM. Woodland is a great place for a family picnic with lots of recreation facilities including a volleyball court, children's playground, ball fields and a floating fishing dock. Picnic facilities has covered ramadas, picnic tables, charcoal grills, and restrooms. Those that love hiking will love the scenery of easy hiking trails. Camping is not permitted. More details about Woodland Lake.
Related Information of Interest
Arizona Lakes
Fishing in Arizona
Boating in Arizona
Arizona House Boating
Water Skiing in Arizona