Setting at an elevation of 5,200 feet and surrounded by Prescott National Forest, Prescott AZ is known for outdoor adventure. Situated in pine forests with four beautiful seasons, cool crisp mountain air, and breathtaking landscape, Prescott features four popular blue-water lakes, each with its own unique beauty.
Located about a 1.5 hour drive north of the Phoenix area, Prescott area lakes offer a cool respite from the summer heat in the desert region. The lakes feature boating, fishing, kayaking, canoeing and hiking with some offering campgrounds. Whether you visit Prescott for the day and enjoy the picnic areas or stay for a week, you will not be disappointed with the beauty and solitude of Prescott Lakes.
Goldwater Lake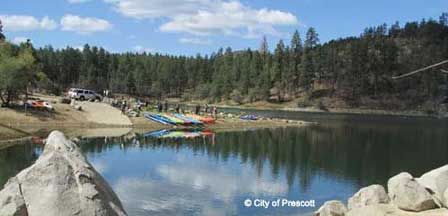 Goldwater Lake is a relatively small lake of about 15 acres of water surface and is surrounded by a lush pine forest. It is open from Memorial Day through Labor Day. It is limited to boats with electric motors. The lake is for day-use only (no camping) but is perfect a family outing with covered picnic areas, volleyball court, horseshoe pits, fishing docks, restrooms and is handicapped accessible. Note that swimming in the lake is prohibited. Read more about Goldwater Lake.
Lynx Lake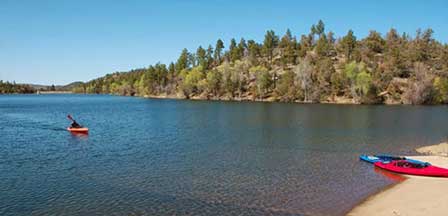 This 55 acre lake is the centerpiece of Prescott National Forest. Surrounded by lush forest, Lynx Lake is a picture of solitude and tranquility. Limited to boats with 10 horsepower motors. The lake has campground facilities that are open for camping from April through October. Take advantage of the day-use picnic areas with tables and grills. Anglers can fish for trout, bass, crappie as well as catfish. Swimming is prohibited. Read more about Lynx Lake.
Watson Lake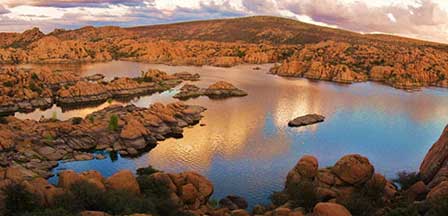 Watson Lake is the second largest lake in Prescott AZ with a water surface of 380 acres. Located only 4 miles from downtown Prescott, it is distinguished by it stacks of granite boulders which are popular with rock climbers. Boats are limited to 10 horsepower gas motors with a maximum no-wake speed of 5 MPH. Fishing varieties include trout, bass, crappie and catfish. Camping sites are available during the summer months. More about Watson Lake.
Willow Lake
Willow Lake is the largest lake in Prescott with a water surface of 400 acres. It is located very near Watson Lake. Boating is limited to electric motors and the lake is ideal for canoeing and kayaking. A hiking trail skirts along the western part of the lake and actually connects with Watson Lake. Camping is prohibited, but he day-use area includes ramadas, picnic tables, boat ramp, children's playground and softball fields. More about Willow Lake.
Related Reading