Upper Lake Mary Near Flagstaff
Upper Lake Mary is about 12 miles southeast of Flagstaff, Arizona in a heavy forested area in the Flagstaff Ranger District of the Coconino National Forest. It is a beautiful sky blue lake surrounded by Ponderosa Pines and meadows with views of the San Francisco Peaks. The "Upper Lake" is not to be confused with its twin sister, "Lower Lake Mary" which is significantly smaller and often nearly empty.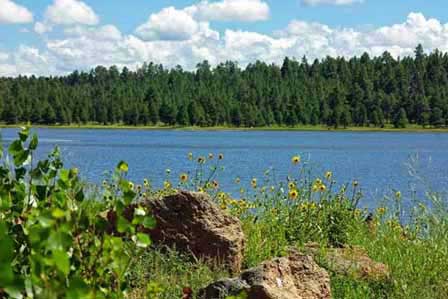 Upper Lake Mary. Credit: Coconino National Forest
Upper Lake Mary is a long and narrow lake that is popular with power boaters and water-skiers. But you'll also see sailboats, kayaks, canoes and even rubber rafts. With its high elevation of about 7,000 feet, expect refreshing summer temperatures that rarely reach 90 degrees Fahrenheit. See our Flagstaff Weather Chart showing average high and low temperatures by each month of the year.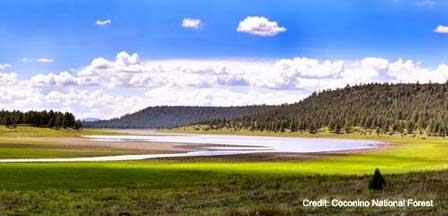 Season, Water Level and Fees
The lake is open year-round and nominal fees are charged during peak use which is typically May through Mid-October. Water surface can vary significantly depending upon annual rainfall and winter snow-melt. We suggest calling the Ranger District at (928) 526-0866 and inquire about current water level.
Fishing At Upper Lake Mary
Fishing here can be a blast. The main attraction is Northern Pike which can get quite large with razor sharp teeth. Their bite can be nasty so don't forget your pliers to remove hooks. You'll also catch rainbow trout, yellow bass, channel catfish, sunfish and an occasional walleye. Fishing can be a lot more fun with a boat but fishing from the bank can also have good results.
Boating, Camping and Amenities
When full, Upper Lake Mary covers about 450 acres of water-surface at a maximum depth of 38 feet. There is no limit on boat motor size and there are two paved boat launch ramps at the parking area. Its picnic area includes covered ramadas, picnic tables, barbecue grills, and vault toilets.
There are excellent facilities for disabled anglers. Two developed campgrounds are nearby including Lake View and Pine Grove. Canyon Vista Campground is closer to Lower Lake Mary and you'll also find more camping area at nearby Mormon Lake and Ashurst Lake.
Map and Directions To Upper Lake Mary
Whether you are coming from the north or south, take I-17 Freeway in Flagstaff AZ and exit east on Lake Mary Road. Follow the paved road past Lower Lake Mary about 12 miles to Upper Lake Mary.
Map compliments of Coconino National Forest
More Information
Call to verify fees, conditions, guidelines, and water levels.
Flagstaff Ranger District
1824 South Thompson Street
Flagstaff, Arizona 86001
928-526-0866
Related Interest
Camping Near Flagstaff
Flagstaff RV Parks
Other Flagstaff Lakes