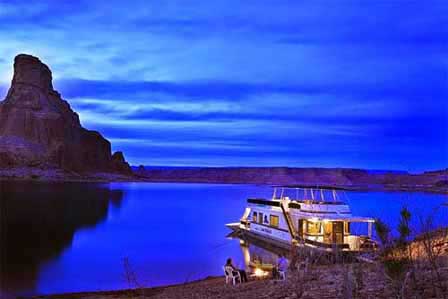 Lake Powell. © Lake Powell Resorts & Marinas
Incredibly beautiful and massive. Lake Powell is the second-largest man-made lake in America. When full. Powell is 186 miles long with over 90 side canyons, many of which are over 25 miles deep. Here is a startling fact. Lake Powell has almost 2,000 miles of shoreline which rivals the total coastline of the Pacific Coast states.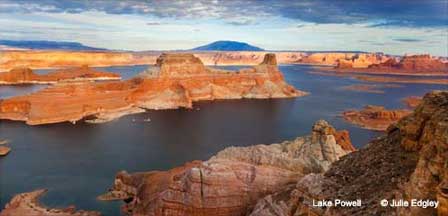 Lake Powell was created by the building of Glen Canyon Dam which was completed in 1966 after 10 years of 24/7 construction. The dam was built to harness the Colorado River and to generate electricity. To give you another idea of how massive this lake is, it took 17-years of Colorado River flow to fill Lake Powell.
It isn't your typical Saturday getaway lake. Lake Powell is a vacation destination where the average stay is 4.5 days. As the sun rises each morning, the red rock cliffs and sandstone mesas glow setting the stage to enjoy one of the most scenic lakes you will ever experience. Its surrounding and vast Navajo Indian Reservation adds a southwest style of rustic elegance.
Deep blue crystal waters. Rose-colored sandy beaches. 360 degrees of astounding beauty. Spires, buttes, mesas, and canyon walls that once stood tall high above the Colorado River are now lakeside cliffs or small semi-submerged islands. Just try. There is no end to Lake Powell's magnificence. It's silky smooth water harbors the largest collection of houseboats in the county.
Things To Do At Lake Powell
The center of action on Lake Powell is at the southernmost west corner of the Lake on the Arizona side. All the adventure you can handle can be found at the marinas of Wahweap and Antelope Point which are about 12 miles apart by car and just a few miles from the dam. What amenities you may not find at one marina, you will find at the other.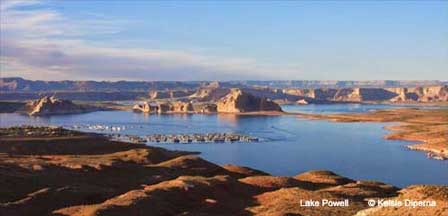 Rent a house boat. Pull along a ski-boat and some jet-skis. Find a cove and anchor-down for the night. Night fish. Throw burgers on the grill. Pour a glass of wine and relish the sight of the brightest stars in the darkest of skies. Swim in the moonlight. Slumber in a style of tranquility that most could only imagine. That is what you can expect at Lake Powell, a vacation paradise. An oasis near Page, Arizona.
Next day let your adventurous adrenalin flow. Water-ski on glass-smooth waters. Jet ski and explore the canyons. Water-slide right off the top of your houseboat into the cool water of Lake Powell. Find where the striped bass are boiling and reel-in a fighting fish with almost every cast.
Cruise The Lake and More
This is like cruising a gigantic water park sculpted by nature over a period of millions of years. Exuded essence will inspire your every sense. Wahweap and Antelope Point feature incredible boat tours. Take a short dinner cruise or the 4-5 hour tour to Rainbow Bridge. Hire a fishing guide. Test your skill at water-boarding at Antelope Point Marina on its dedicated water boarding park.
So Many Attractions Near Lake Powell and Page, Arizona
If you need a break from lake boating, house boating, cruising and water recreation, do some Page, Arizona area sightseeing. One of the most visited spots is Antelope Canyon, the most photographed slot canyons in the country. You'll find Horseshoe Bend absolutely breathtaking.
Take the short easy hike in Page, Arizona to the Glen Canyon Dam Overlook where you will get a bird's eye view of the dam and Glen Canyon Bridge. See the Colorado River flow from the dam on its voyage through the canyon on its way to Lees Ferry which is the official beginning entry into the Grand Canyon.
Most people don't realize the Desert View East Entrance to the South Rim of the Grand Canyon is less than a 100 mile drive south of Page and Lake Powell. It's actually the prettiest end of the Grand Canyon with overlook points with astounding views. On your way stop at the Cameron Trading Post on the Navajo Reservation.
Where To Stay At Lake Powell Arizona Side
There are many choices lodging and accommodation choices. Choose spacious resorts, stay overnight in a stationary or moving houseboat, camp at full service campgrounds or stay at a hotel or motel in Page.
Lake Powell Resort. Located at Wahweap Marina in Page, Arizona,
Luxurious Lake Powell Resort sets right at the marina. Lovely rooms and suites. Awesome restaurant and your own secluded beach. Relax at poolside with endless amazing scenery or hang at the Driftwood Lounge. All rooms have TV with cable, mini-refrigerator, comforts of home and free wireless Internet in the resort lobby or lounge. Read more about Lake Powell Resort.
Wahweap Campgrounds and RV Park. Choose your camping style. Full RV hookup sites with 30 and 50 amp service, water and septic. Accommodations for 45 foot and some 70 foot rigs. Laundry and showers available. Picnic tables, charcoal grills and/or fire rings. A convenience store and gift shop is near the registration office and WiFi is available at the resort lobby. Tent only and group tent sites are also available. More information about Wahweap Camping.
Group Overnight Stays on Stationary Houseboats. Large groups can stay at stationary houseboats at Antelope Point Marina. Often this is a much better deal and a whole lot more fun than separate hotel rooms at Page, Arizona. All of the conveniences of home, multiple bedrooms and bathrooms and open use of marina services and lake recreation.
Related Information About Lake Powell Arizona
About Lake Powell
Lake Powell Map and Directions
Wahweap Marina Map
Map To Antelope Point Marina
Lake Powell House Boat Rentals
Fishing at Lake Powell
Lake Powell Weather and Water Temperatures
Helicopter Flight Top of Tower Butte<