Urban Fishing Lakes, Ponds & Lagoons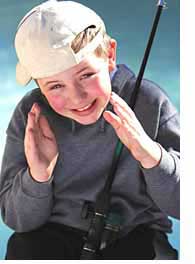 In cooperation with the Arizona Game and Fish Department, Phoenix and other Valley of Sun towns and communities there are fishing lakes and ponds within various city parks in the area. Thanks to the Arizona Urban Fishing Program, residents can find fishing fun practically in their backyards. This is great for visitors and vacationers since these urban lakes are conveniently located near Phoenix hotels and Phoenix resorts. Fishing and picnicking in the parks is an ideal way to spend a leisurely day with the entire family.
Thanks to rapid development of rural areas, the number of lakes is increasing, with new ones becoming available every couple of years. To many visitors from other areas of the US , the lakes may resemble large ponds rather than lakes, but despite their size, the fishing is exceptional.
Children under the age of 14 are not required to have a license, all other must obtain a Class U (Urban) fishing license at a cost of $16. The license is good for a year. Other short-term licenses are available as well for those anglers who are just passing through. Inquire with the AZGFD for daily catch limits.
The lakes are stocked with a variety of fish including rainbow trout, channel catfish, white amur and sunfish to name a few. Every other week between March and November, channel catfish are stocked in the lakes, and from November to March rainbow trout are added. Each of the 15 lakes carries similar varieties of fish with some slight exceptions. Below is a list of urban fishing lakes and their location.
Alvord – Located in Cesar Chavez Park in southwest Phoenix , at southwest corner of 35th Avenue and Baseline Road.
Chaparral – Located in Chaparral Park in west Scottsdale , northeast corner of Hayden and Chaparral Roads.
Riverview – Riverview Park in west Mesa , northwest corner of Dobson Road and 8th Street.
Cortez – Located in Cortez Park in northwest Phoenix , at northeast corner of 35th Avenue and Dunlap Avenue.
Canal Pond – Located in Canal Park in northwest Tempe, southwest corner of College Avenue (68th Street) and McKellips Road.
Water Ranch – Located in Riparian Preserve at Water Ranch in north Gilbert, at southeast corner of Greenfield Road and Guadalupe Road. Lake is just east of the Southeast Regional Library.
Desert West – Located in Desert West Park in southwest Phoenix , at 63rd Avenue between Virginia Avenue and Encanto Boulevard.
Kiwanis Park Lake – Located in Kiwanis Community Park in central Tempe, southwest of Baseline Road and Mill Avenue.
Surprise – Located in City of Surprise . Surprise Recreation Campus in northwest Valley, between Bell Road and Greenway on the east side of Bullard Avenue.
Encanto – Located in Encanto Park in central Phoenix , northeast of 15th Avenue and Encanto Boulevard (between Thomas and McDowell Roads).
Desert Breeze – Located in Desert Breeze Park in west Chandler , southwest of Ray Road and McClintock Drive on Desert Breeze Boulevard.
Rio Vista Pond – Located in Rio Vista Park in south central Peoria on Rio Vista Boulevard , just north of Thunderbird Road, 1/4 mile west of Loop 101 Freeway.
Papago Ponds – Located in Papago Park in east Phoenix , immediately north of the Phoenix Zoo on Galvin Parkway between McDowell Road and Van Buren Street.
Red Mountain – Located in Red Mountain Park in east Mesa , at southeast corner of Brown Road and Sunvalley Boulevard (3/4 mile east of Power Road ).
Steele I.S. Pond – Steele Indian School Park on the northeast corner of Indian School Road and Central in downtown Phoenix. Park entrances are from 3rd Street north of Indian School or from Farrington Street (1 block north of Indian School Road) east off of Central Avenue .
Also see Tempe Town Lake and Things To Do For Kids in Phoenix.