Lake Mohave
Lake Mohave was created with the building of Davis Dam on the Colorado River on the border between Arizona and Nevada. The lake is relatively "skinny" with its widest point being only about 4 miles wide but is 67 miles long with over 200 miles of shoreline. It is located just north of sister-cities of Laughlin, Nevada and Bullhead City, Arizona. Most of its length is bordered by the steep canyon walls of Eldorado, Pyamid, and Black Canyons as you proceed north.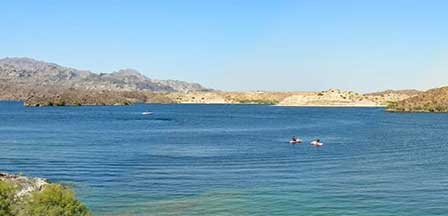 At the northern-most end of Lake Mohave, boats can travel up the Colorado River near the base of Hoover Dam which creates one of largest man made lakes in the country, Lake Mead, which is located between Arizona and Nevada. This stretch of the river features stunning views of canyon walls.
Lake Mohave is part of the Lake Mead National Recreation Area and is administered by the National Park Service. Vacationers will discover a world of water recreation and outdoor adventure on Lake Mohave including boating, house boating, jet-skiing water skiing, kayaking, fishing, camping, hiking and a visual feast of sightseeing.
Casino Resort Gambling & Entertainment
Whether you spend a day, a weekend or a month, you'll discover that Lake Mohave is and ideal place that can combine water recreation with the excitement of casino resort gambling, Las Vegas style entertainment, great golf courses and world class restaurants just down the road at Laughlin. If your the type that doesn't enjoy camping, you'll find luxury hotels in Laughlin and very affordable hotels in Bullhead City just across the bridge from Laughlin.
Camping, RV Parks and Facilities
Lake lovers will discover hundreds of beaches along the lake shores that can only be accessed by boat. So choose your own beach as a base campsite. There are two primary public use facilities including Katherine Landing just 7 miles north of Laughlin and Bullhead City; and Cottonwood Cove on the Nevada side just east of Searchlight, Nevada. Both locations feature public campgrounds, RV Parks, boat launches, docking facilities, boat rentals, restaurants, fishing tackle and fishing licenses.
Fishing At Lake Mohave
Largemouth and Striped Bass are abundant at the southern end of the lake. Striped Bass action is best just above Davis Dam. Rainbow Trout are active at the lake's upper end particularly around the Willow Beach area on the Colorado River. Fishing licenses from either Arizona and Nevada are required.
Getting To Lake Mohave
Depending upon your destination within Lake Mohave or the Colorado River, there are several ways to desired locations at both Arizona and Nevada sides of the lake. See the Lake Mohave Maps below for specific directions.
Directional Map
Includes map directions to both Lake Mohave and Lake Mead from both the Nevada and Arizona sides.
From Phoenix. Take Grand Avenue West (US 60) to Wickenburg AZ. Then take US 93 north through Wikieup AZ to I-40 west through Kingman. Take the Bullhead City / Las Vegas exit and turn right at the signal at the end of the exit ramp. Continue west taking the Highway 68 ramp toward Bullhead City / Laughlin. Highway 68 merges into Arizona Highway 95. Follow signage to Laughlin, Bullhead City and Katherine Landing at Lake Mohave.
Approximately 225 miles from Phoenix, about a 4 hour drive.
From Las Vegas: Interstate 515, US 93/95 south through Las Vegas towards Boulder City. After passing through Henderson and the Railroad Pass, take ramp and turn right onto US 95 south toward Searchlight/Laughlin for 55 miles. Turn left onto NV 163. Head east for and follow signage to various points of interest.
For More Information
National Park Service (Lake Mohave)
Lake Mead National Recreation Area
601 Nevada Highway
Boulder City, Nevada 89005
(702) 293-8906
Katherine Landing Ranger Station
(928) 754-1464
Cottonwood Cove Marina
(702) 297-1464
Lake Mohave Maps