Lake Havasu (The Lake)
Lake Havasu is the most visited lake in Arizona attracting over 2,500,000 fun-seekers to its shores every year. Formed by Parker Dam on the Colorado River, this 45-mile long lake with over 450 miles of shoreline is a scenic oasis located on the border between Southern California and Arizona. Vacationers flock to Lake Havasu's deep, clear waters for its abundance of water recreation and and outdoor adventure. It's also an extremely popular Spring Break destination for students from Southwest and features marina launches on both the Arizona and California shorelines.
Lake Havasu City Arizona and The London Bridge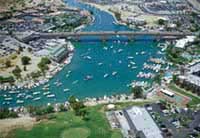 London Bridge at Lake Havasu
The focal point of the lake is the Master-Planned City of Lake Havasu City AZ which has been dubbed the "Personal Watercraft Capital of the World." The landmark icon of the city and the lake is the London Bridge. Yes, the London Bridge originally built over the River Thames in London, England. The first granite stone was laid to the bridge in 1825. When it was discovered the bridge was sinking due to heavy traffic in 1962, the bridge was auctioned to Robert McCullock, the Founder of Lake Havasu City for $2,460,000 in 1968.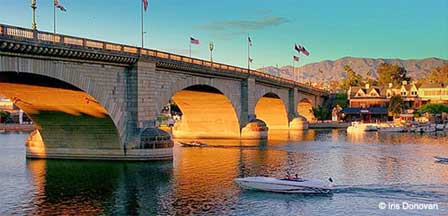 The entire bridge including its arches made of granite was moved to Lake Havasu and reassembled stone-by-stone. It now connects the city to an island in the lake that is home to a resort, restaurants and a golf course. Adding to the essence of Medieval England, an British Village sits at the bridge gateway and features Tudor-style buildings that house shops and boutiques along the shore.
Water Recreation and Boating
Credit: Lake Havasu CVB.
Choose your style of lake recreation because this oasis of sandy beaches, coves, inlets, canyon walls, desert landscape, and cool waters beckon all who seek adventure, fun and romance whether for months, a week vacation or a weekend getaway from the hectic grind of city life.
Bring your own or rent watercraft for power speed-boating, water-skiing, jet skiing, sailing, kayaking, houseboating or fishing for trophy striped bass, largemouth bass, trout, crappie and catfish. Lake Havasu is a popular spot for fishing tournaments and there are several fishing guides that will take you to the best fishing spots.
The lake is also host to many boat races and regattas including the International Jet Sport Association's World Finals which takes place annually. This event is the "Super Bowl" of personal watercraft and jet-ski racing.
Spring Break at Lake Havasu
Creative Commons
Lake Havasu is considered by many to be among the top spring break spots in the world. Every year at school break, college students from the southwest flock here for 24/7 party time. Spring break is not a time for children to be on Lake Havasu as college students get wild and crazy when many of the bikini-clad expose their breasts at the slightest encouragement.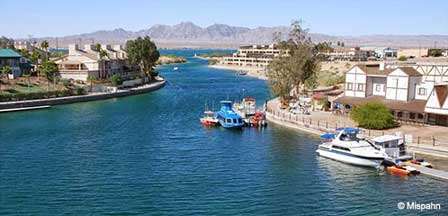 Most spring breakers head to the secluded Copper Canyon where everyone ties their boats together and parties from boat to boat from sunup to sunrise. Jumping into the lake from the canyon walls is popular, yet dangerous recreation when one has consumed way too much alcohol. Read more about Lake Havasu Spring Break.
More Than Just Water
If you enjoy seeing the backcountry scenery, Lake Havasu also offers thousands of square miles for your off-highway enjoyment under the supervision of the Bureau of Land Management. The lands in these designated areas are completely open to dune buggies, motorcycles and 4WD vehicles, making Lake Havasu your premier off-road thrill ride.
Try hiking one of the many trails that wind through the rocks that surround the lake. The Mohave Sunset Trail is an easy 1.5 miles that takes you through some desert lowlands in addition to hugging the shoreline, providing an excellent way to view some of the over 350 species of birds and animals that call the Lake Havasu riparian area home. If you want a more challenging hike, try the three mile Slot Canyon Trail known as Crack in the Wall at SARA Park Wash. The trailhead for this hike is found just south of Lake Havasu City and leads visitors through some of the most colorful and geologically diverse terrain in all of Arizona. Be prepared for some serious climbing and fabulous scenery as you make your way across rock ledges, over several dry falls and down into the lake itself at Balance Cove.
Wild animal lovers will enjoy both the Bill Williams River National Wildlife Refuge at the south rim of the lake and the Havasu National Wildlife Refuge along the lake's western edge. While several isolated coves have been set aside for biological study, these wildlife refuges also have public access areas that provide excellent bird watching and habitat observation points. The nearby Topock Gorge is abundant in wildlife including big horn sheep, wild burros and coyotes with many sightings of falcons and peregrine.
Camping At Lake Havasu
On the Arizona side of Lake Havasu there are 125 campsites on the shores of the lake spanning from Lake Havasu City to Parker Dam. Most of the camping sites include picnic tables, shade, bbg grills, pit toilets and trash receptacles. Moderate fees apply and campgrounds are available on a first come basis.
Getting To Lake Havasu
Lake Havasu is located on the Colorado River between Arizona and California. It is about 150 miles from Las Vegas, 208 miles from Phoenix, 307 miles from Los Angeles and 313 miles from San Diego.
Directions From Phoenix. Take I-10 West. Take Exit 19 marked Parker/Yuma to AZ 95 North. Continue on AZ 95 until you arrive in Lake Havasu City.
Directions From Las Vegas. Take US 93 south to Kingman Arizona. Then take I-40 to Arizona 95 south to Lake Havasu City which is about 60 miles from Kingman.
Directions From California. Drive between Needles and Vidal Junction on Highway 95 and take Seventeen Mile Road east to Lake Havasu. From the Arizona side, a water taxi is available in the London Bridge Village in Lake Havasu City on the Arizona side.
Lodging & Accommodations
Choose from a wide selection of Hotels in Lake Havasu City AZ or consider Lake Havasu RV Parks, Vacation Rentals and area Campgrounds.