Prescott Arizona Vacation Guide
One thing Prescott AZ can boast. It has a lot of fans. And it's easy to see why. This is lay-back "Hometown America." It's gorgeous with pine covered mountains, five sky-blue lakes, hundreds of miles of hiking and biking trails and camping grounds throughout Prescott National Forest. It has rich historical attractions, merging cultures and a nostalgic old west flavor.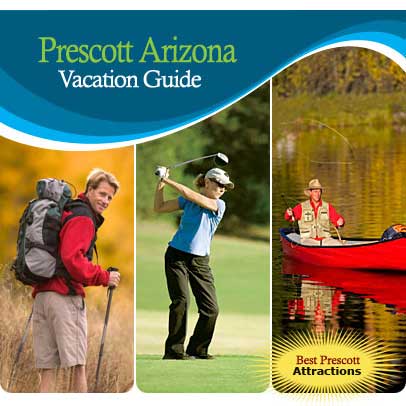 Evidence its annual Frontier Days and the World's Oldest Rodeo. It's been called "A Top 10 True Western Town" by True West Magazine. With over 500 historical homes and buildings, Prescott protects its evidence of turn of the century history.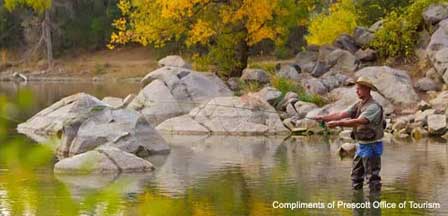 It has also been one of the "Top 5 Places To Retire" by Money Magazine. The local natives still pronounce Prescott as "Preskit." We call one astounding vacation getaway places in Arizona. Come here once and you will come back, again and again. Read more about Prescott, Arizona.

Prescott Hotels & Motels. Prescott features a wide range of hotel and motel choices from luxury accommodations with spacious rooms and amenities to budget motels.

Prescott Cabins & Bed and Breakfasts. Escape to cool mountain pine country and expect to be pampered at bed and breakfasts in Prescott, Arizona. From century-old homes, lodges in the tall pines to cabins on the edges of scenic lakes.

Prescott Things To Do & See. Prime attraction. Fresh air and wide open space. Over 500 historic buildings, 450 miles of hiking trails, 5 scenic lakes. the Prescott National Forest, museums, Whiskey Row and more Prescott Attractions.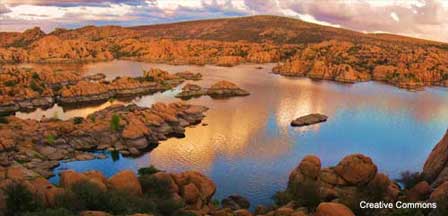 Discover Prescott. There's Something For Every Vacationer
Get ready for exciting experience. Things to do and see in Prescott AZ beckons those that want a restful getaway. Whether you're staying at a Prescott Hotel, a romantic bed and breakfast, camping or just making a day trip to Prescott, you'll discover nature at its best. Spring brings meadows of wildflowers. When summer arrives it's time to hit Prescott's many miles of hiking trails or enjoy its lush Prescott Golf Courses featuring perfect golf climate. Autumn is an explosion of fall colors and winter often brings blankets of snow. Prescott is an all season destination.
Five lakes deliver solitude. No noisy boat motors here. Explore the lakes with quiet electric motors. Canoe or kayak. Fish from shore. Picnic under the tall pines. Lynx Lake and Goldwater Lake are nestled in the cool pines. Layout on the granite boulders that surround Watson Lake and Willow Reservoir that also features views of the Mogollon Rim.
Vacation to your style. And when the day is done cozy up to fireplace, visit Whiskey Row for some active nightlife. Don't bother to get dressed up. Remember, this is a down home kinda place where informal comfort is the norm. Shop the boutiques and antique shops, visit a Prescott Museum or catch an outdoor movie at the downtown square. And if you come around the 4th of July, don't miss the World's Oldest Rodeo.
Anytime is a great time to visit Prescott, especially during the summer as an escape from the desert heat in Phoenix. Come on. Bring your friends and family. Discover the natural beauty and serenity of beautiful Prescott, Arizona.
In The Pines Around Prescott