Tempe Town Lake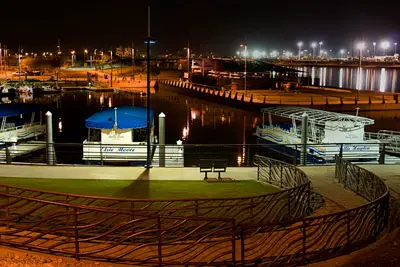 Tempe Town Lake - © Robert Body
Imagine an urban environment where you could spend the morning sailing across crystal clear lake waters, picnicking on grass knolls or strolling along smooth sandy beaches, followed by an afternoon concert at an outdoor amphitheater, with dinner at dozens and dozens of restaurants or caf�s within walking distance. Even better, imagine not even having to drive to this urban refuge as you board the soon to be complete light rail from the station nearest your home and you glide quickly over the rails to alight effortlessly at your destination. For those living in the Phoenix area, this imagined oasis is just moments away at Tempe Town Lake.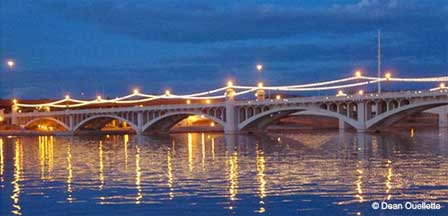 More than just a city water-side park, Tempe Town Lake is a civic masterpiece of open space and habitat blending seamlessly with lakeside residential and commercial development. Two miles in length and found along the traditional banks of the normally dry Salt River, Tempe Town Lake combines innovative design with the wonders of nature into a vibrant mix of outdoor recreation, arts and culture settings, premier retail shops and fine dining. Completed in the 1990s after two decades of planning, design and engineering challenges, today Tempe Town Lake is the crown jewel of the City of Tempe and provides a destination experience for not only those nearly 1,000,000 people living within ten miles of the Lake, but over 4,000,000 in the Valley of the Sun.
In The Heart of Downtown Tempe
Town Lake runs from just east of Mill Avenue west to about Curry Road and along Rio Salado Parkway in the heart of downtown Tempe. Town Lake's Beach Park, considered by many to be the town's finest special event space, borders the Historic Mill Avenue District. Here visitors can enjoy exciting nightclubs, dine in the finest Tempe restaurants or find that perfect gift item at nearly 200 shops brought together in the unsurpassed mix of businesses that only the Mill Avenue District can offer. Nearby Arizona State University, home to Sun Devil Stadium, is within walking distance and forms a stunning backdrop for visitors strolling along the shores or enjoying a paddle cruise across the water.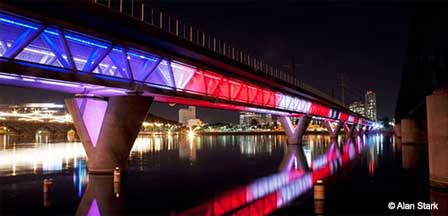 The Tempe Marketplace can also be found along Town Lake's southern shore. Not just a mall but a destination in itself, the Marketplace contains over 1.3 million square feet of high end retail, restaurant, and open space. Designed as a lifestyle center, the Tempe Marketplace distinguishes itself from other shopping venues by its creative use of water elements, fire pits, gathered seating spots, concert venues and pedestrian friendly walkways, within clear view of the sparkling waters of Tempe Town Lake.
Outdoor Activities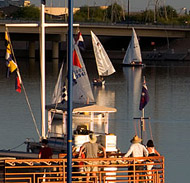 © Robert Body
Visitors to Tempe Town Lake can enjoy a host of outdoor activities. Whether in town for the Ironman Arizona race or simply out for an evening stroll among the various walking and cycling trails, Town Lake is the place to be.
Boating - whether rowing, sailing, or paddling, there are plenty of ways to get on the water at Town Lake. You can bring your own boat, enjoy a cruise from the Rio Lago Cruise Company, or rent a small watercraft, all at the lake's north shore.
Jogging and Bicycling - the lake's long, linear design is perfect for jogging or riding your bike. The route from Rural Road to Mill Avenue is three miles long, the near equivalent of a 5K race, and thousands of outdoor enthusiasts flock to the trail each year to train for area races. You don't have to be a professional athlete to enjoy the workout trail that circles the lake beginning at Tempe Beach Park, however. An easy loop road, this trail is ideal for walkers, cyclists, marathon runners or the casual jogger and the flat terrain makes it one of the best interval training tracks in Arizona.
Fishing - Town Lake is stocked with rainbow trout each year, but don't be surprised if you land one or two other delicious types of fish as well, as nearly a dozen varieties call Town Lake home.
Ongoing Entertainment
While Town Lake is home to several small amphitheaters that host community entertainment and seasonal concerts, the premier entertainment spot is the Tempe Center for the Arts. More than just a performing arts center, TCA contains a 3,500 square foot art gallery, an art park and outdoor displays, a lakeside banquet and conference facility, and is directly adjacent to the walking and bicycling paths that circle the lake. A destination in itself, TCA contains a sculpture garden, a fire element and spectacular reflecting pool that is one of most stunning nighttime displays of light in all of Arizona. No trip to Town Lake would be complete without a stroll past the Temple Center for the Arts.
It's hard to mention them all, but there are over 100 events scheduled every year at or near Tempe Town Lake including the Tempe Arts Festival, The Tempe Festival of Lights, The Holiday Boat Parade, The 4th of July Fireworks Show, Oktoberfest, The Insight Bowl and The Insight/Fiesta Bowl New Year's Block Party, one of the most attended community New Year's Party in the country.
Live/Work/Play
One of the innovations of Tempe Town Lake is the live/work/play concept found in the many luxury condominiums overlooking the lake's shiny waters, bordered by several mixed used developments including Class A office space, high end retail and exciting nightlife. Here residents can glide down from their opulent condominiums, walk a few steps to their office, and then step out again at day's end for a night on the town, dining and dancing at one of the Tempe's top nightclubs, all without getting behind the wheel of their car. The creative use of meandering paths along the lake's shore make pedestrian travel the preferred method of transportation, and on weekends, residents and visitors alike can stroll between the many water venues along the lake and the restaurants, caf�s and shops with ease.
Tempe Town Lake is the centerpiece of a civic revitalization project bringing together the best of Tempe's recreation, entertainment and shopping into one fabulous, exciting adventure destination. Found in the heart of the city, Tempe Town Lake is a short fifteen minutes from downtown Phoenix.
More Information About Tempe Town Lake
Related Tempe Interest
Tempe Arizona
Tempe Map
4th Of July - Tempe
Holiday Fantasy Of Lights
Mill Avenue District
Tempe Beach
Tempe Casinos
Tempe Arizona Pictures