Heber-Overgaard Arizona
Heber Overgaard is located about 38 miles from Show Low and 55 miles from Payson, Arizona. Some people think it's part of the White Mountains regions and others consider it Mogollon Rim Country. It is situated with the Sitgreaves National Forest. Since it's elevation is about 6,500 feet with summer temperatures that rarely exceed 85 degree F, it can be considered as part of both regions in northeastern Arizona. The population of Heber-Overgaard is about 2,700 (2007) very lucky residents.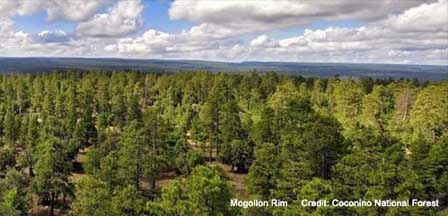 Heber and Overgaard are technically two different unincorporated communities but are so close, most consider them almost one and the same which is why combined they are referred to as "Heber Overgaard". Mormon pioneers first settled Heber in the late 1880s. Overgaard was originally called "Oklahoma Flat" but was renamed after the first owner of it sawmill.
Today, Heber Overgaard is an all season vacation and getaway destination of Arizonans, particularly those that live in the desert communities of the Phoenix and Scottsdale that seek a cooler climate during the summer months.
Heber-Overgaard Recreation & Adventure
Sitting between Payson (Rim Country) and Show Low (White Mountains), you could say Heber-Overgaard features twice the fun.. Hunting for deer, elk, bear, antelope and wild turkey is permitted. With an abundance of lakes and streams in both directions, trout fishing is very popular in the area.
No matter which direction you go, hiking and camping is equally ideal with great views, crisp cool air and terrain of rolling hills to high majestic mountain peaks and thick pine forests of pine, fir and aspen. World class snow-skiing is a short drive to the Sunrise Park Resort just east of Show Low AZ. And if casino action is your thing, head east to the Hon-Dah Resort Casino near Pinetop Lakeside or go south to the Mazatzal Casino in Payson.
With its rich historic background, Heber-Overgarrd maintains its small town, rustic charm with four seasons of outdoor adventure and recreation. This is indeed a place where vacationers can escape the hectic pace of city life to a serene and tranquil place of awe-inspiring beauty. Use the leftside navigation to explore all the fun the White Mountains area offers and visit our Payson, Arizona section for even more ways to enjoy an exciting getaway.
Directions To Heber-Overgaard
From Phoenix. Take State Highway 87 North to Payson and continuing east via State Highway 260 to Heber-Overgaard. The trip is about 109 miles depending upon exact departure point in the Greater Phoenix area.
Heber-Overgaard Area Map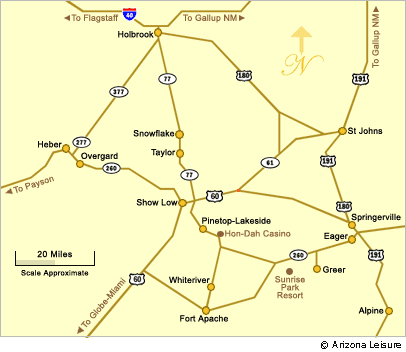 Related Heber-Overgaard Interest
Heber - Overgaard
Heber Overgaard Bed & Breakfasts
Heber-Overgaard Chamber of Commerce
Beautiful White Mountains In Arizona