Canyon De Chelly National Monument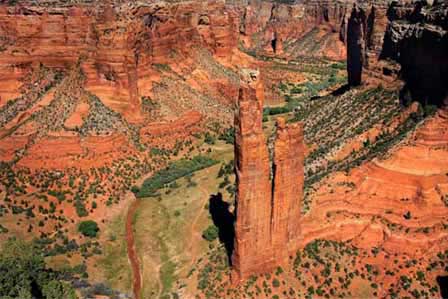 Spider Rock at Canyon De Chelly. © Mike Koopsen
The Canyon de Chelly National Monument [du shA´] consists of many well-preserved Anasazi ruins and spectacular sheer red cliffs that rise up to 1000 feet. A trip to the monument offers visitors a chance to learn about the people who lived there in ancient days as well as those who live in the canyon today.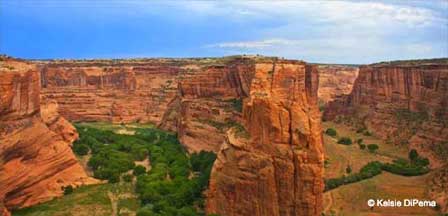 The Anasazi - "Ancient Ones" - lived in the canyon between 350 and 1300 AD and resided in communities nestled below the towering cliffs or perched on high ledges. Their homes were engineered using timbers and adobe-style bricks. The most impressive structures are large cliff dwellings, built between 1100 and 1300 in the Pueblo period. The Anasazi left the area around 1300. The reason for their disappearance is debated with the most popular theory being a prolonged drought that forced them out. The people of Canyon de Chelly and other nearby Pueblo centers left their homes and moved to other parts of the Southwest. Some of the present-day Pueblo Indians of Arizona and New Mexico are descendants of these pre-Columbian people.
The Hopi and Pueblo Indians are believed to be the most closely related to the Anasazi. The Hopi lived in Canyon de Chelly at some time between 1300 and 1700.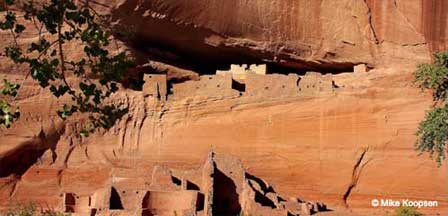 The Navajo, related culturally and linguistically to the various Apache Indians in the Southwest, moved from northern New Mexico into the area around 1700. In the 1700s and 1800s they recorded the arrival of the Spaniards and the introduction of cows, horses and sheep into the area.
The Navajo fought with the Pueblo Indian villages and Spanish settlements along the Rio Grande Valley. As a result, the Spanish, Mexican, and American governments conducted their own battles with the Navajo. As a Navajo stronghold, Canyon de Chelly figured prominently.
Today, some 80 families still live in the canyon where they farm and raise animals. Visitors can see the working farms and the traditional Navajo houses six or eight-sided hogans with the doors facing east to greet the sun every morning.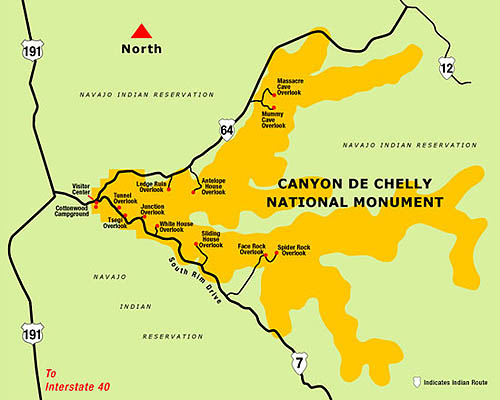 An excellent way to view Canyon de Chelly Arizona is to hike the moderate, 2.5-mile White House Ruins trail, which descends 600 feet to the canyon floor.
To hike anywhere else in the canyons, visitors must be accompanied by an authorized guide. Guided tours are offered on foot or horseback or on four-wheel-drive vehicles.
Visitors also can view Canyon de Chelly and Canyon del Muerto by driving along the north and south rim drives.
Canyon de Chelly National Monument provides campsites at no charge on a first come basis. Groups of 15 or more people can make reservations by contacting the monument.
Canyon de Chelly National Park
P.O. Box 558
Chinle, Arizona 86503
(928) 674-5000 or 5510
More Information & Reading
www.discovernavajo.com
Indian Ruins In Arizona
Arizona Indian Ruins
Canyon de Chelly
Casa Grande Ruins
Montezuma Castle
Map & Directions Montezuma Castle
Montezuma Well
Palatki Indian Ruins
Pueblo Grande
Walnut Canyon
Wupatki Ruins
Related Canyon de Chelly Interest
Canyon de Chelly
Canyon de Chelly Campground
Canyon de Chelly Photos & Videos
Canyon de Chelly Visitor Info
Map & Directions Canyon de Chelly
The Spectacular Grand Canyon