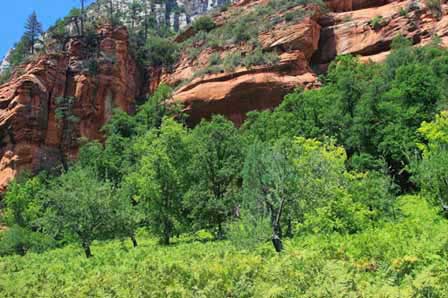 West Fork Trail Oak Creek Canyon. © Silver Spur Tours
Oak Creek Canyon Scenic Drive is about a 14 mile drive along Route 89A between Sedona and Flagstaff, Arizona. It has been recognized as one of the Top 5 Most Scenic Drives in America by Rand McNally. Oak Creek Canyon is a breathtaking stretch of beauty on a winding road that climbs 4,500 feet from Sedona to the top of the Mogollon Rim.
The scenic drive can ascend the canyon from Sedona or descend from Flagstaff, AZ. Either route is equally breathtaking as you slowly descend or ascend through picturesque forests. The canyon opens to the foliage of oaks interspersed with evergreen pines with the incredible backdrop of red-faced rocks and cliffs in the backdrop.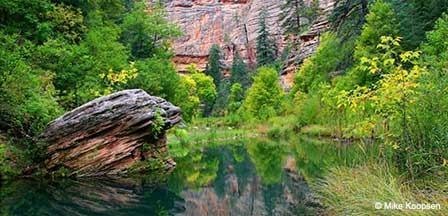 Passengers have the viewing advantage. The road is fraught with a few hairpin turns and switchbacks that require the driver's full attention. In any case, there are many locations along the drive for a chance to park and relish the beauty and enchantment Northern Arizona offers. Be sure to stop at Slide Rock, a popular water recreation spot in the summer.
The crystal clear Oak Creek flows throughout the year ensuring beauty filled with lush greenery during spring and summer with golden colors emerging in the fall. The canyon's deepest point lies about a mile and half from the top of the rim. The canyon's walls are quite steep, but visitors marvel at the various colors of the rocks that seem to tower above the quiet waters below.
If you are lucky enough to make the drive after a rain, water-falls will spill over the tops of cliffs. You will see several enticing campgrounds and picnic spots along the way. Take your fishing gear and try your luck catching trout from along the banks of Oak Creek.
Slide Rock State Park
Slide Rock is located at the mouth of the canyon and is the favorite getaway spot for the desert-dwellers when summer arrives. A natural water-slide (Slide Rock) makes this one of the regions most beloved attractions. Slide Rock State Park has been featured on various lists as one of America's ten best swimming holes.
West Fork Oak Creek Trail
Oak Creek Canyon is also home of the famous West Fork Oak Creek Trail, perhaps the most popular hiking trail in Arizona. West Fork hiking trail beckons in all seasons. The first few miles are easy hiking along the creek. You might get a bit wet walking across the creek, but you will relish the tranquility amidst nature.
Oak Creek Canyon Vista Point
At the top of the canyon, various Native American vendors sell hand-crafted authentic works of art at Oak Creek Canyon Vista Point. It is a great place to stop and enjoy the views into the canyon. Of all the beautiful scenic drives in Arizona, Oak Creek Canyon Scenic Drive is one no one should miss!
Oak Creek Canyon Photos, Mike Koopsen