Side Trip From Phoenix To
The Grand Canyon South Rim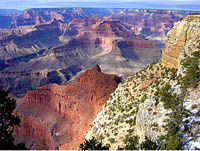 The Grand Canyon, one of the world's seven wonders, is the most visited attraction in Arizona. The South Rim of the Grand Canyon is the nearest rim to the Phoenix and Scottsdale area and is the most popular. The South Rim features hotels, lodges, restaurants and convenient amenities including an interior shuttle bus system that takes visitors to the various scenic points.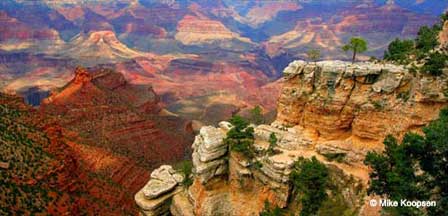 The Grand Canyon South Rim is about 230 miles north of Phoenix via I-17 North to Flagstaff. From Flagstaff, take Highway 180 northwest to the canyon. Although it can be a day trip, it would be an exhausting one if you're going to spend a reasonable amount of time experiencing the canyon. It will be more enjoyable spending the night at a South Rim hotel or one of the many Flagstaff hotels.
Another way to enjoy your Grand Canyon trip is taking the Grand Canyon Railroad from Williams, Arizona which is about 35 miles west of Flagstaff along Interstate 40. Regardless of which route you take or how long you will stay, while you're visiting Arizona, the Grand Canyon South Rim is a must-see. The views across the canyon are spectacular. And if you have the time, consider some nature hikes or even a mule ride along the narrow sided cliffs to the bottom of the canyon.
The South Rim is open all year. There are tour companies that specialize in guided tours to the South Rim from Phoenix via motor coach or airplane with one day or multiple day options.
Related Phoenix Interest
Phoenix Arizona
Camelback Mountain
Desert Botanical Garden
Greater Phoenix Map
Greater Phoenix Things To Do
Japanese Friendship Garden
Mystery Castle
Hiking Papago Park
Phoenix Area Attractions
Phoenix Area Museums
Phoenix Arts & Theatre
Phoenix Bed & Breakfasts
Phoenix Boat Rentals
Phoenix Boat Tours
Phoenix Dude Ranches
Phoenix Events & Festivals
Phoenix Fishing Guides
Phoenix Grand Canyon Tours
Phoenix Horseback Riding
Phoenix Restaurants
Phoenix To South Rim
Phoenix Weather Info
Phoenix Zoo
Piestewa Peak Hiking
Rawhide Western Town
Roosevelt Lake Map & Directions
South Mountain Park
The Spectacular Grand Canyon