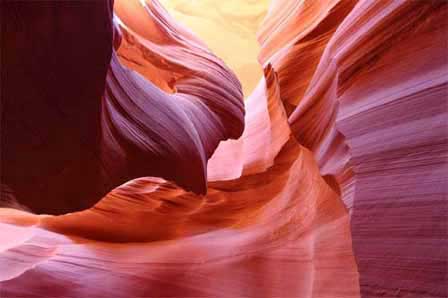 Antelope Canyon in Arizona. © James Tang
Stunning beauty awaits. Antelope Canyon in Arizona on the Navajo Indian Reservation is the most photographed slot canyon in America. It's a sacred and spiritual place. Serene and mystical. A quiet reverence. A special work of art created by nature. An unimaginable blend of glowing pastel colors made brilliant by cascading beams of sunlight that illuminate an artful collection of sculpted sandstone in infinite shape and form.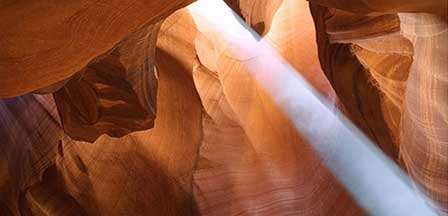 Antelope Canyon is like a vibrant underground cathedral where every step exposes a unique scene of depths of exquisite contrast and brilliance. Just gaze and imagine an evolving millions upon millions of years where flowing water and winds carved this sacred wonder. Imagine how ancient peoples must have respected and protected this place to preserve it as a gift to all civilizations to come.
There are two primary parts of Arizona Antelope Canyon to explore.
Upper Antelope Canyon
Upper Antelope Canyon is the most popular and most visited of the two slot canyons. Less narrow and more level than Lower Antelope, making it so much easier to hike. There are no stairs to climb making it more convenient for children and those with limited walking ability. Most agree that Upper Antelope Canyon is preferred for photo-taking since more light beams from above penetrate to the floor of the canyon revealing its vibrant fantasy of color. The upper canyon ends at a wash and visitors must walk back to the entrance to exit.
Lower Antelope Canyon
The lower canyon is much more narrow versus the upper canyon and there is no entrance at ground level so visitors must climb down ladders to reach the canyon floor. Lower Antelope Canyon is more shallow than the upper canyon and its penetrating sunlight beams do not occur as often or as dramatic as the Upper Canyon. The walk ends at a drop-off. Visitors can retrace back to the entrance or climb up a set of stairs and walk back along the surface rim.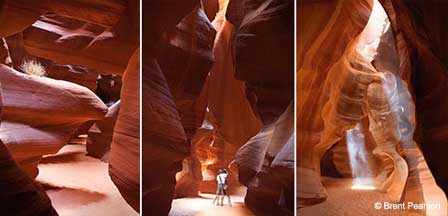 How Antelope Canyon Was Formed
It took the forces of water, wind, and climate extremes over millions of years to create this cathedral of shapes and its brilliant array of color. During rain storms, water is collected in a basin above the slot canyon. When the basin overflows, it forms a flash flood that rushes through the canyon carving shapes of sandstone which is essentially petrified sand dunes. With each succeeding flood, carvings of new shapes and polishing of existing formations gradually occur.
Is There A Danger of Getting Caught in New Floods?
Yes, there could be potential danger, but there is only remote chance. During rain storms on the Navajo Indian Reservation, rain-runoffs slowly converge to form quick-moving flash floods. But guides and management carefully watch weather patterns carefully. When poor weather and potential rain storms are predicted, the canyons will be closed and entry is prohibited. This is a reason visits to the canyons are prohibited without being accompanied by an approved guide
Seasonal waters from Antelope Creek flow through both canyons and drain from the south, into nearby Lake Powell. The rainiest months in the canyon area are generally August and September. But again, when conditions exist for flooding, entry to the canyons will be prohibited.
Antelope Slot Canyon is Sacred To The Navajo People
Many centuries ago, herds of pronghorn antelope roamed freely in the area and often used the slot canyons as a corridor to the river area. Hence the name "Antelope Canyon". The Navajo People have lived in the area for many centuries.
According to the Navajo Nation, particularly elder Navajos deemed the canyon sacred and treated it much like entering a spiritual cathedral. They paused before entering quietly giving respect and offering protection. This permitted them to leave the canyon with uplifted feelings in harmony with something greater than themselves. It was and still is a spiritual experience.
Best Time To Visit The Canyon
The peak season that attracts the largest crowds is April though October. To avoid big crowds, take the earliest tours that typically last 1.5 to 2.0 hours. The best time to take photos is about mid-day from April through September when the sun is overhead casting beams of light into the canyon.
Tours of the Antelope Slot Canyons
Visitors must be accompanied by a guide approved and licensed by the Navajo Nation to enter Antelope Canyon. Fees vary by specific guide and a separate entrance fee is charged. Contact one of the approved tour guides. Some tour companies offer photography and specialized custom tours.
Where is Antelope Canyon?
Antelope Canyon is located on the Navajo Indian Reservation about 5 miles east of Page, Arizona, just south of Lake Powell. It is about 130 miles north of Flagstaff, Arizona. From Flagstaff, AZ, take Highway 89 North to Page, AZ. Tours generally depart from Page since the gates to Antelope Canyon are closed to the public. Click on the map below for an enlarged view.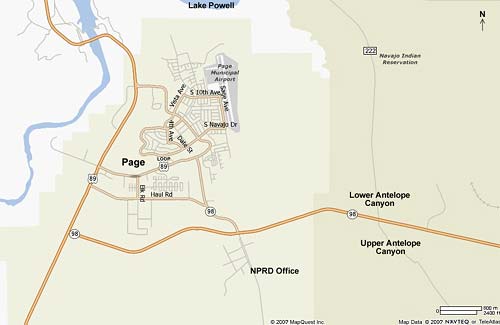 Questions and More Information
Lake Powell Navajo Tribal Office
P.O. Box 4803
Page, Arizona 86040
(928) 698-2808
The Navajo Tribal Office is located next to the LeChee Chapter House about 3 miles south of Page, Arizona on Coppermine Road which is Navajo Route 20.
Related Interest