Fishing in Flagstaff Arizona
Fishing in the Flagstaff area is primarily within the Mormon Lake Ranger District of the Coconino National Forest. There are four primary lakes in the area all accessible at the Lake Mary Road exit from I-17 Freeway. The lakes are clustered within close proximity with the farthest lake being about 38 miles from Flagstaff.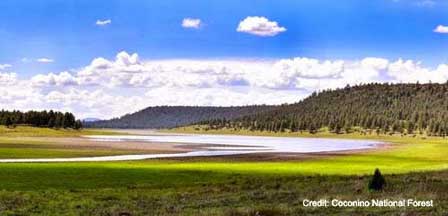 With elevations above 7,000 feet, the summer temperature are cool and refreshing, ideal for fishing, camping and hiking. With views of the San Francisco Peaks in the background, these area lakes are located in scenic landscape where herds of elk, deer and antelope graze.
Fish varieties in the Flagstaff area in Northern Pike, Rainbow Trout, Brook Trout, Walleye, Channel Catfish, Yellow Bass and Sunfish. Click on each link below to find all the information you need to enjoy Flagstaff fishing.