Some of the best scenery in central Arizona can be seen right from a car window along the Apache Trail. A route for the adventurous traveler, the trail is partly paved with a section of the route graded dirt. The road was originally constructed in the 1930s to support the development of dams along the Salt River. The trail is a day-trip from the Phoenix Area and drive is an experience you will never forget. Caution is required when driving and its not recommended for large RV's or caravans; the largest RV rental company in the US does not allow their vehicles do be taken on this route.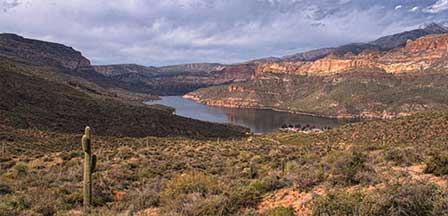 Most travelers who venture onto Apache Trail follow a route that starts in Apache Junction then loops through Roosevelt, then south to Globe and back to Apache Junction. Along a loop drive of 80 miles, you will find spectacular scenery to rival any in the state. The unpaved section of the trail provides magnificent views of twisted igneous mountains with dense forests of saguaro and ferocactus with several deep blue lakes along the way.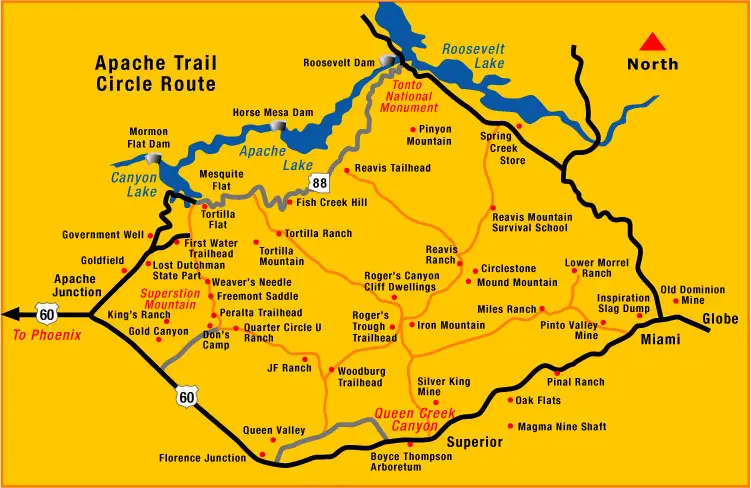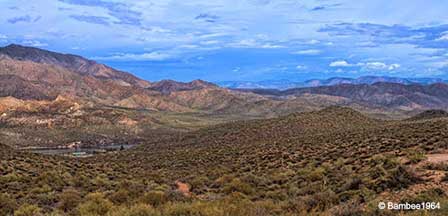 Fish Creek Canyon is perhaps the most awe-inspiring section. The road hangs on the side of this high-walled canyon and winds its way along tremendous precipices that sink sheer for hundreds of feet below.