Kingman Arizona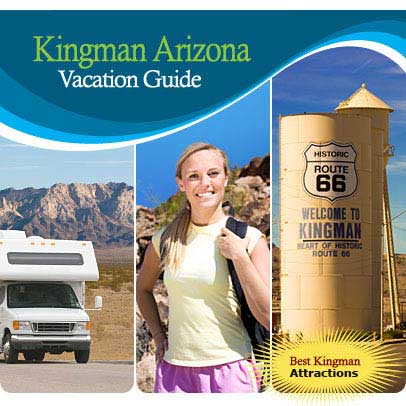 Kingman is located in northwest Arizona just off Interstate 40 about 95 miles from Las Vegas, Nevada and about 150 miles west of Flagstaff, Arizona. Hoover Dam is about 67 miles northwest of Kingman via US 93. Kingman sits at an elevation of 3,336 feet east of the rugged Black Mountains. The population of Kingman and its surrounding area is about 40,000.
Quick History of Kingman
Kingman was named after Lewis Kingman who surveyed land along the Atlantic & Pacific Railroad right of way. Kingman was originally a small camp settlement for those that built the railroad track in the area which was completed in 1883. The railroad spawned its growth as a railway transportation center. Kingman's railroad legacy remains strong today as over 100 trains transiting through Kingman during any 24-hour period.
When gold was discovered in the area in 1900, Kingman became the mining center of Mohave County. The building of Hoover Dam on the Colorado River which created Lake Mead gave further rise to the growth of Kingman and an important travel center in northern Arizona.
The longest running stretch of Old Route 66 runs through Kingman which celebrates the "Mother Road" with its annual "Historic Route 66 Fun Run" when humdreds of classic cars travel from Seligman to Topock Arizona. Kingman boasts being the "Heart of Old Route 66" of which 158 original miles still run through Arizona.
With architecture ranging from adobe to Victorian, the downtown district of Kingman claims 60 buildings listed on the National Register of Historic Places. Andy Devine, a cowboy movie star and long-time friend of John Wayne is a native son of Kingman. Clark Gable and Carole Lombard were married at a local church.
Things To Do and See
Kingman AZ is an ideal destination for history buffs. The nostalgia of Old Route 66 brings back the good old days. There is a self-guided tour that takes you the downtown district among many of the historical buildings and 27 sites of interest. Historic Beale Street Antique Row boasts over 14 antique stores. Popular events include the Walk in the Park for arts & crafts and antiques, the Andy Devine Days PRCA Rodeo and Parade, and the Kingman Air & Auto Show.
There are also two fine golf courses, the 18-hole championship course at Valle Vista Country Club and Cerbat Cliffs, a municipal 18-hole course surrounded by a beautiful natural setting. With a 3,400-ft elevation, the city has a mild climate year round. The region's mountains and lakes provide a variety of hiking and biking trails.
A Hub For Vacation Day Trips
Kingman is a great hub for day trips. A short trip west, visitors will find the "almost" ghost town of Oatman Arizona, while a short drive north leads to Chloride AZ. Both of these Old West towns offer lively gunfight reenactments, historic buildings and local artisans.
A tour of Hoover Dam is but about a 65 mile drive and the water recreation recreation wonderland of Lake Mead is just on the other side of the dam which created this enormous lake. And if the gambling urge hits you, the bright lights of Las Vegas is about another 35 mile drive.
Laughlin Nevada with its multitude of las Vegas style casinos and entertainment is about a 45 minute drive from Kingman. Laughlin sits on the Nevada side of the Colorado River which will give you hours of fun boating, fishing and water-skiing. This is a place where water-taxis will take you from one casino to another. You'll also find Lake Mohave just a short distance from Laughlin.
The West End of the Grand Canyon is about 50 miles from Kingman where you can take a helicopter ride to the bottom of the Canyon or take a stroll on the new SkyWalk that extends out over the Canyon.
More Information About Kingman