Nogales Arizona,
A Gateway To Old Mexico.
If you plan visiting Old Mexico from Tucson, the shortest distance is through Nogales, Arizona, Arizona's largest border town about 65 miles south of Tucson along Interstate 19. Nogales, Arizona sits across the border from its "twin city" of Nogales, Sonora, Mexico. The two cities share a rich history that dates back thousands of years ago when ancient native people's trade routes went through the combined area.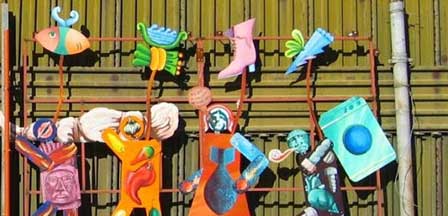 Nogales, Arizona was incorporated in 1893 within Santa Cruz County. The elevation of Nogales is 3,857 feet and it has a population of about 23,000 (2007). It is a major port entry into Mexico. The cultures in each of these twin cities belie the fact that the name is the same. Nogales, Arizona, while it still maintains its historical charm, is a bustling, modern city while Nogales, Mexico is a sleepy, laid back place that caters to tourists looking for bargains on hand made itemsthat seem to be sold at every street corner. Step across the border from one town to the other, and it is like you are entering into another time and dimension.
Short History of Nogales
In 1539, Fray Marcos de Niza, a Franciscan Missionary was dispatched by Spain in search of the legendary Cibola, the Seven Cities of Gold. In 1540 Spanish Conquistadors led by Francisco Vazquez de Coronado arrived in the area to expand expeditions. The prehistoric migratory route used by the ancient Indians was later named "El Camino Real" which is Spanish for "The King's Highway".
Nogales takes its name from the Spanish word for "walnut" since groves of walnut trees at one time covered the mountain pass that bridged the two settlements. Eventually the Gadsden Purchase defined the border between the Arizona Territory and Mexico which bisected Nogales into the two different settlements of Nogales, Arizona and Nogales, Mexico. The historical influence of early Spanish Missionaries, Native Indian Tribes and European settlers provides the links to today's culture of both cities.
Nogales Arizona Today
Today's Nogales AZ is a welcoming town filled with exciting things to see and do. The city is filled with the pleasing Sonoran-style architecture, but is also home to many other building styles that include Spanish Colonial, Queen Anne Cottage, Pueblo, Second Empire, and Mediterranean. The town is home to a wide array of unique shops and restaurants of which some are still run by descendants of Nogales pioneers!
Nogales Attractions
Outdoor enthusiasts make the southern trek to Nogales in search of the marvelous cave systems that await them there. The Cave of the Bells actually supports its own lake. Onyx Cave is equally fascinating. Both are located near Nogales in the Santa Rita Mountains.
The landscape surrounding Nogales has wide appeal for many visitors. Various trails allow hikers to sample the fascinating trails in some of the recreation areas. Fabulous examples of regional flora and fauna round out the setting that offers attractive views in an area that was once traversed by many historical peoples. Backcountry biking trails also offer a great way to explore the Santa Rita Mountains area.
Fifteen ghost towns draw many tourists to the Nogales area. Essentially, these small boomtowns grew up around mining operations in the wild west era. When the precious metal dried up, so did the towns. Visitors flock to these ghost towns to see remnants of these old western operations and to witness their mark on the past. Be sure to check out some of the better known ghost towns of Lochiel's Post Office, Ruby's Post Office, Tubac, and Harshaw's Post Office.
Other important sites that should not be missed on a trip to Nogales include Pena Blanca Lake, the Fred Lawrence Whipple Observatory, Tumacacori National Historical Park, the Southeastern Bird Observatory, and the Pimeria Alta Historical Society.
Fifteen miles northeast of Nogales, Arizona is the Patagonia Lake State Park where residents and tourists can enjoy water skiing, fishing, camping, picnicking, and hiking. In fact, numerous spots offer the chance for outdoor activities in the midst of gorgeous scenery, including hiking, fishing and boating.
Be sure to visit Xavier del Bac Mission which was built in 1783 and still preserved today. The mission is located about 9 miles south of Tucson just off I-19 on the way to Nogales, Arizona.
Directions To Nogales Arizona
From Tucson. Take I-19 from Tucson south to Nogales. It's about a 65 mile drive.
More Information
Lodging and Hotel Options
Accommodation choices include hotels in Nogales, Arizona, Tucson hotels and bed and breakfast inns in the Tucson area.
Southern Arizona Destinations