Schultz Pass Scenic Drive
If you just have an hour or two to take a scenic drive into the beauty of the forest that sets in the eastern shadows of the San Francisco Peaks, this trip will be a visual blast. The twenty-six mile loop begins just two miles north of Flagstaff and features several points to stop and enjoy incredible views. So, pack a picnic lunch and a blanket and take a quick, yet relaxing drive into mountain tranquility.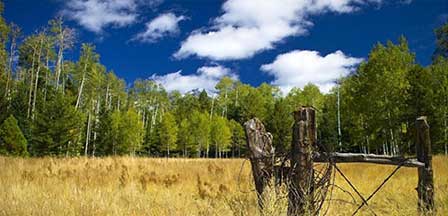 Or if you have the time, leave the car behind and jump on your bike or even your steed and horseback ride into lush forested hiking and riding trails where you will be rewarded with meadows of wildflowers in the spring and summer and the changing colors of fall. This is a magical place where resident Arizona elk, mule deer and fox roam the area.
Be sure to take your camera and have it ready to capture great scenic views and pictures of the native wildlife that often are sighted when least expected. You'll be disappointed if you forget the binoculars.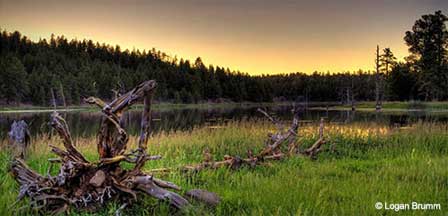 Getting There. Drive north from Flagstaff about 2 miles on US 180. Just beyond the Museum of Northern Arizona, turn east on FR 420. Follow this route up and over Schultz Pass to US 89 where you'll turn right for the return trip back to Flagstaff. Depending upon the number of stops, the trip takes about 1 to 2 hours and covers 26 total miles.
The Season. April through November, depending on when snow closes FR 420.
Road Conditions. Highways 180 and 89 are paved. FR 420 is graveled but suitable for passenger cars in most weather. It is closed in winter when snowfall warrants.
Trailheads. Several hiking and mountain-biking trails start just off Schultz Pass Road. The Sunset Trail begins a little more than five miles off U.S. 180, the Weatherford Trail just about three-quarters of a mile farther. You'll also pass several side roads, but since most are much rougher than Schultz Pass Road, explore with caution, especially if you don't have a high-clearance vehicle.
For More Information
Peaks Ranger Station
5075 North Highway 89
Flagstaff, Arizona 86004
(928) 526-0866
Nearest Lodging & Accommodations
Consider Flagstaff Hotels and Motels, Bed and Breakfast Inns, RV Parks or Vacation Home Rentals.
Schultz Pass Road Loop Map