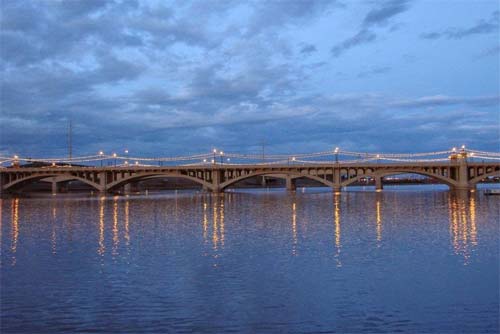 View of Tempe Bridge From Tempe Beach Park, © Amy Meredith
The 25-acre Tempe Beach Park, the crown jewel parks is located just south of the Tempe Mill Avenue District the center of action in Tempe. The park was not only created for family recreation, but Tempe Beach Park is the center of entertainment where over 75 events take place every year.
Tempe Beach Park is conjoined with Tempe Town Lake a 2 mile long urban water-recreation destination that includes boating, sailing and a 5-mile loop trail that serves joggers, walkers, cyclists and those who enjoy fishing. It is the perfect place to picnic on the grassy knolls. Combined with Tempe Town Lake, it features more annual events, festivals, and concerts than any other place in the Phoenix area.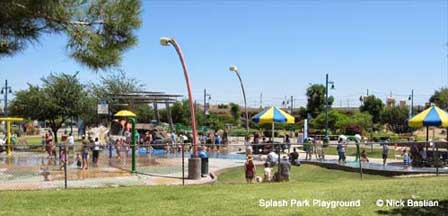 Splash Playground Park at Tempe Beach Park
Kids love to play in and with water. Tempe Splash Play Park at Tempe Beach is the perfect place for kids and those that still think they are kids. Splash Park is a one-acre, free playground that is exclusively centered on water recreation that includes water slides and sand play areas that are covered in only two inches of water.
While splash park is designed with safety in-mind, an attendant is always available during operating hours. Umbrellas provide shade from the sun while adults watch their kids cool-off as they frolic in the water playground.
Enter the playground through a metal circle of clouds that rains a light mist of water on the visitors. Hear the thunder and see fake flashes of lightning. Kids will feel the excitement running through the "ocean" and riding the toy whales. Splash Park is open from 10:00 AM to 7:00 PM during the summer season.
Picnic Facilities and Amenities at the Park
Some picnic tables are only available by reservation by phone two weeks in advance by calling (480) 350-8625. Reservations can be made up to 90 days in advance by visiting the Operations Center at 620 North Mill Avenue. Nominal fees apply including beer permits. There is a "large shaded ramada" with 10 picnic tables available on first come basis.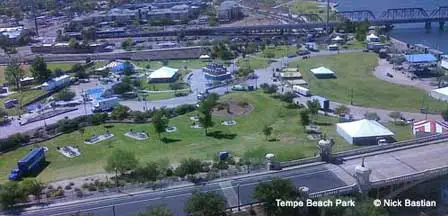 Tempe Beach Park is still one of the top recreational attractions in Arizona and the centerpiece to the Tempe community. The 25-acre park is the perfect setting for outdoor fun and relaxation. The Luis Gonzalez Arizona Diamondbacks Field of Dreams baseball diamond is located at the park. It also hosts over 75 yearly events including the Ironman Arizona, PF Chang's Rock 'n' Roll Marathon, Fourth of July celebration, Tempe Music Festival, Oktoberfest and more.
Just north of Tempe Beach Park is the Mill Avenue District where there is an abundance of fine restaurants, shopping and nightlife. If you enjoy sailing, kayaking, rowing, canoeing, or fishing, Tempe Town Lake is right next door where small boats may be rented.
Map Location of Tempe Beach Park
More Information
Tempe Beach Facebook Page
Tempe Town Lake
Tempe, Arizona
Mill Avenue and Rio Salado Pkwy
Tempe, Arizona 85281
(480) 350-5200