Tempe Mill Avenue Fantasy of Lights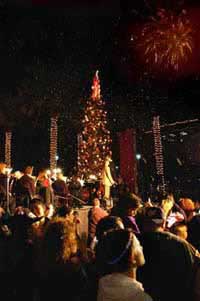 During the Christmas Holiday Season, the Mill Avenue Downtown District comes ablaze with glittering lights depicting a winter wonderland that draws over 45,000 people full of Holiday spirit. The Fantasy of Lights runs from Thanksgiving until the New Year.
The celebration launches with an Opening Night Parade, live entertainment. and a Tree Lighting ceremony when the lights are first triggered on a 60 foot Christmas Tree at Centerpoint Plaza in the Mill Avenue District. Watch for Santa Claus as he arrives to listen to children's requests for Christmas gifts. The night sky illuminates with a colorful fireworks show finale that tops off a spectacular evening for all ages.
Tempe's Fantasy of Lights is one of the most popular of its kind in the country as attendees walk the pedestrian friendly streets dining and enjoying the street entertainment. The annual event is free to the public.
Related Tempe Interest
Tempe Arizona
Tempe Map
4th Of July - Tempe
Holiday Fantasy Of Lights
Mill Avenue District
Tempe Beach
Tempe Casinos
Tempe Arizona Pictures
Metro Phoenix