Little Colorado River in Greer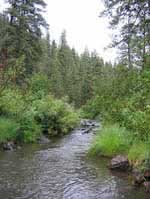 Creative Commons
You'll love this creation of nature which is one of the most pristine water features in Arizona. The Little Colorado River originates from springs on Mount Baldy Peak in the White Mountains, flows through Greer, Arizona and eventually meanders its way to the Grand Canyon. Just close your eyes and imagine a large shimmering crystal clear stream, cascading waterfall and plunge pools surrounded by lush forests. It is such a great place to hike that many folks overlook the relaxation of fishing for trout.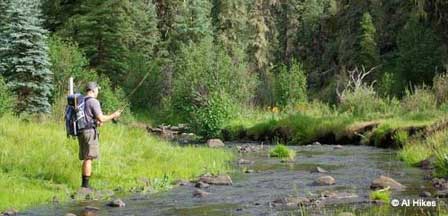 The Little Colorado River in Greer, Arizona includes the East, West and South Forks of the river. The East Fork is about six miles of narrow creek that originates from the Colter Reservoir and flows through Greer AZ. The West Fork is fed by springs at the top of Mt. Baldy (second highest peak in Arizona) and flows to Sheep's Crossing into Greer. The South Fork of the river actually flows north, east of Greer that makes its way to the main tributary.
There are places along the road in Greer where the river juts out near pullout points that can become quite crowded during the peak summer season. You can reach the uncrowded serenity to reach the flavor of lush wilderness by taking a short hike deeper into the river's secluded areas. Hiking along along the Little Colorado is simply a spectacular experience.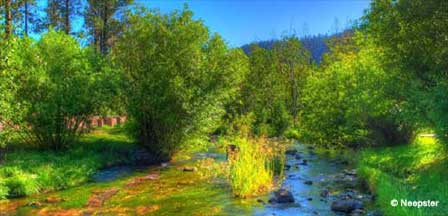 Depending upon which fork of the river you happen to trek, anglers will find trout species that include Rainbow, Brown, Brook and the native Apache Trout. Fly-casting and floating salmon eggs produce great results. Note that an Arizona fishing license with a trout stamp is required for anglers age 14 and above. Live bait is prohibited and there are areas along the river that are either private property or "catch and release" points only.
Getting To Greer
Greer, Arizona is about 225 miles northeast of Phoenix, about 30 miles east of Show Low and about 15 miles east of Pinetop Lakeside. From Phoenix, take Loop 202 east and Arizona 87 (Beeline Highway) northeast to Payson. Take Arizona 260 east through Show Low and Pinetop Lakeside and then turn south on Arziona 373 to Greer AZ.
Related Articles
Where To Stay
See White Mountain Cabins & Lodges.
Beautiful White Mountains In Arizona