Mexicali, Mexico Visiting the Capital of Baja California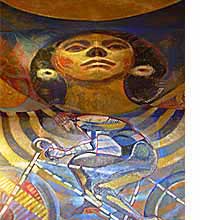 Creative Commons
A city boasting Mexico's highest standard of living, Mexicali knows how to show its visitors a good time. A mere forty-five miles from Yuma, Arizona, Mexicali is home to 653,046 people and its population continues to grow and prosper.
As a modern city, Mexicali hosts various expositions and conventions for businesses and organizations, but it also welcomes vacationers by offering activities and events to suit all tastes and budgets.
Getting to Know Mexicali
Mexicali is the capital of Baja California. It is known as one of Mexico's most fertile areas and is a rich agricultural center. Although Mexicali is surrounded by desert, its area manages to produce some of the nation's main crops like cotton and wheat; it also produces a plethora for vegetables that are exported worldwide. As a business center, Mexicali is home to processing plants like Sabritas, Jumex, and Nestle. It is also home to branches of companies such as Sony, Honeywell, Daewoo, and Cardinal Health. It is currently working to attract more international business. As a tourist destination, Mexicali offers a great variety of activities and features a myriad of lodging accommodations, cultural attractions, and restaurants.
Mexicali History
Before the Spanish arrived, the area of Mexicali was home to various Yumano tribes. After the Spanish managed to cross the Sonoran Desert, they arrived in this area to find a prosperous people skilled at cultivating corn, melons, and squash. Eventually, these native tribes were reduced as Spanish missionaries spread across northwest Mexico. Subsequent settlers, the Spanish and Mexicans, began to slowly build an agricultural empire out of the fertile ground of Mexicali's vicinity. Mexicali, as an official town, was born on March 14, 1903. It grew in population and prestige to become the capital of Baja California, Mexico's twenty-ninth state.
Visiting and Vacationing in Mexicali
As a vibrant border town, Mexicali welcomes northern visitors on a weekly basis. Visitors can expect to find traditional stalls for authentic Mexican food and crafts. Bars and night clubs offer an exciting taste of Mexican nightlife. Many visitors make the trek to Mexicali to purchase pharmaceutical drugs which can be had at much lower costs than in the United States. Mexican pharmacies require prescriptions for these purchases, but there are also many doctors' offices in the area that cater to tourists' needs.
Of course, the stunning scenery attracts many visitors to Mexicali as well. Travelers should plan to enjoy the waterfalls and palm trees of Guadalupe Canyon. Others may prefer the Cerro Prieto's mud volcanoes and boiling craters. Other popular Mexicali attractions include the House of Culture, the City Gallery, Macahui Lagoon, Cachanilla Square, the Calafia Bull Ring, the Mexicali Zoo, the UABC Regional Museum, and the Natural History Museum. With a friendly population and loads of activities, Mexicali is one of Mexico's most exciting towns. Its proximity to Yuma, Arizona and California make it easily accessible for travelers.
Directions To Mexicali
Located in the northeastern region of the state of Baja California in Mexico about 45 miles from Yuma, Mexicali can be easily accessed through Interstate 8 near Yuma, Arizona which is a mere seven miles from the Mexican border. Interstate 10 will also put travelers in reach of the border crossing. Mexicali also has an international airport that is used extensively by tourists flying in and out of the city.
Related Yuma Interest
Yuma Arizona
Mexicali Mexico
Yuma Attractions
Yuma Dune Buggy Rentals
Yuma Weather Info
Southern Arizona Destinations