Yuma Arizona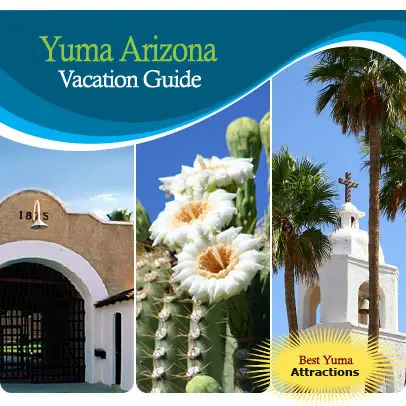 Yuma AZ. Alive with Recreation and Adventure
In 1849, Yuma began its blossom as a military family community created to support the needs of nearby Fort Yuma. Soon, the steamboats brought commerce up the Colorado River from the Gulf of California spawning new growth. Subsequently Yuma became a major river crossing of those hustling to stake-claim on the gold riches of California. In those days, Yuma was a typical booming city of the rough and tough wildest.
The brothels, swinging door saloons and drunken gunfights on the dusty streets are a thing of Yuma's past. Today, Yuma is a thriving river city with rich historical tradition that has been carefully blended with modern living, water recreation and immense cultural and historical attractions.
Downtown Yuma Arizona maintains its connection to the past with boutiques, artisan workshops and quaint shopping still residing in buildings built long ago. The old town Yuma atmosphere lives on as people gather in local cafes, restaurants and theatres. Of course, the old watering holes are now called microbreweries.
Mild winters and temperate summers geared to river recreation is now the welcome mat of Yuma Arizona. Money Magazine ranks Yuma as one of the top places to live in America. The Farmer's Almanac ranked Yuma as having the best year-round weather and Golf Magazine has said that Yuma Arizona is America's 6th best city of golf. No wonder Yuma is a vacation destination, a retirement paradise and a magnet that draws families seeking a better quality of life.
Surrounded by mountains, fed by the beautiful Colorado River waters and framed by the tranquil beauty of the Sonoran Desert, Yuma boasts a setting like no other. Spend a day touring the river waters into its historic and cultural past. Three-wheel and sand buggy the picturesque Imperial Sand Dunes or even visit the charm of Mexico just across the border nearby. Colorado River tours, rich heritage, desert adventures, water recreation and an abundance of nature wildlife is all part of the Yuma Arizona experience.
Did we mention golf in lush scenery? Fishing, hunting, rock-hounding and bird-watching. And, if you want to experience the entire Colorado River valley in Arizona make an easy drive north along the river to Parker Arizona, the boat capital of the west. Or Lake Havasu where the original London Bridge now crosses a water playground to an island of recreation. And a bit farther to Laughlin, Nevada, the second coming of Las Vegas along the Colorado River banks.
That's Yuma Arizona. Go and enjoy all it has to offer. Tour excursions, its water paradise, boating adventure, fine restaurants, excellent hotels and exquisite golf courses. You'll discover why Yuma is among America's fastest growing cities.
Related Yuma Interest
Yuma Arizona
Mexicali Mexico
Yuma Attractions
Yuma Dune Buggy Rentals
Yuma Weather Info
Southern Arizona Destinations