White Spar Campground Camping in Prescott, Arizona
Description. Campground elevation sets at about 5,700 feet. There are 59 campsites of which 23 are handicap accessible. 12 of the campsites are open year-round. RVs are permitted but driveways lengths vary with the average campsite accommodating a 40 foot RV. Nominal campsite fees apply and are subject to change without notice. The paved road system to and throughout the campground makes for easy access to each camping site. There are no utility hookups, dump stations or shower facilities. The campground is about a 3/5 mile hike from Goldwater Lake.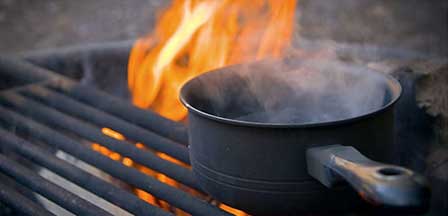 Reservations. First come, first serve. Reservations not accepted. Season. All year, weather permitting. Only 12 sites are open during the winter months.
Facilities. 59 camp sites each with a picnic table, grill, and fire pit. Drinking water is seasonally available from May through October and vault toilet(s) are available year-round. Stay limit is 14 days and there is a campground host to provide assistance. Parking with a maximum vehicle length of 22 to 40 feet depending upon the specific campsite.
Restrictions. Campfires ae only permitted in fire pits. Gathering of dead wood is permitted for campground use only. Fireworks are prohibited. Dogs must be on leash of 6 feet or less. OHV/ATV use is prohibited within the campground. Stay limit is 14 days.
Directions. From Prescott, turn south onto Montezuma Street from Gurley Street. Stay on Montezuma Street (US Highway 89) for 3 miles. Turn left at the White Spar Campground sign and go about 100 feet to campground entrance.
More Information
Rates, seasons and guidelines are subject to change without prior notice. Please call to verify before visiting White Spar Campground in Prescott, AZ
In The Pines Around Prescott