Tombstone Arizona Boot Hill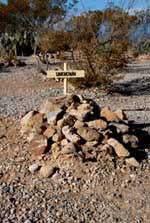 Tombstone's Boot Hill Graveyard is a wild west burial ground with over 250 graves that include the bodies of town pioneers, murderers, horse thieves, bank robbers and at least one poor soul that was hanged even though he was innocent.
The present site of Boot Hill was not the original site. It was relocated to it present location in 1884 on a side hill north of the town. The grave sites are very shallow because the ground was very hard and therefore difficult to dig very deep or more likely people were too lazy and anxious to get to the Bird Cage Theatre.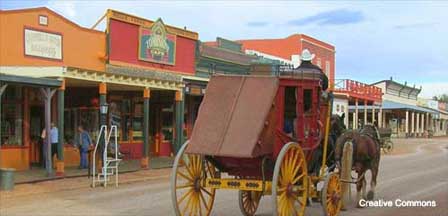 Although fairly well restored from its rough and tough "shoot'em-up days, many of the graves contain "unknown" folks. That's because many of the grave markers were made of wood and over-time rotted away.
Known Grave Sites
Perhaps the most famous of those buried at Boot Hill are Billy Clanton and the McLaury brothers, Frank and Tom. Their grave markers say "murdered on the streets of Tombstone, 1881". As legend has it, they were shot and killed by the Earp brothers, Wyatt, Virgil and Morgan, and John "Doc" Holiday at the famous Gunfight at the O.K. Corral.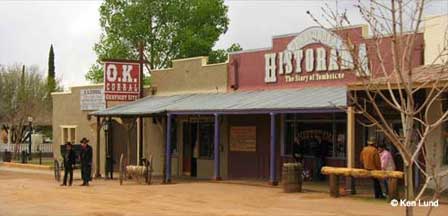 Five gang members, Dan Dowd, Bill Delaney, Dan Kelly and Red Sample were convicted of robbery in the nearby town of Bisbee and were hanged on the gallows in the Tombstone Courthouse yard, The original scaffold is still in the same spot in Tombstone today. The leader of that gang, John Heath was hung by a lynch mob from Bisbee from a telegraph pole near the Tombstone Courthouse.
Some of the graves include George Johnson who innocently bought a stolen horse from horse thief and was hung before it was discovered he was innocent. A man by the name of Kansas Kid was killed by a stampede. And there is the grave site of "Dutch Annie" who was called the "Queen of the Red Light District. When you visit Boot Hill at Tombstone, you will receive a free guide that lists the grave occupants and the cause of their deaths.
If You Go
See our map and directions to Tombstone which is about 60 to 65 miles Southeast of Tucson AZ.
Related Tombstone Interest
Tombstone Arizona
Bird Cage Theatre
Boothill Graveyard
Gunfighjt At The OK Corral
Tombstone Hiostory
Tombstone Weather Info
Southern Arizona Destinations