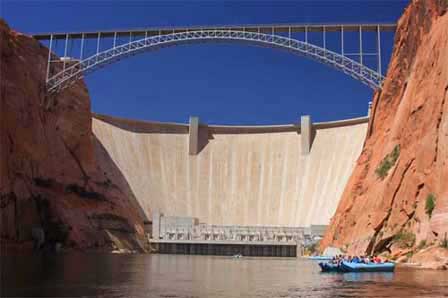 Photo of Glen Canyon Dam and Bridge
The Glen Canyon Dam Overlook is located in Page, Arizona on the south side of the Colorado River downstream from Glen Canyon Dam and Lake Powell. From the overlook parking lot, it's a relatively easy hike that takes about 20 to 30 minutes for the round trip hike.
At the beginning, it's a slight downhill hike with handrails. The return hike would be slightly up hill. Although an easy hike, it is not accessible and is not recommended for pets. Keep on the designated trail for your safety and watch children carefully.
At the base of the trail is a covered viewing area. Looking north you will see massive Glen Canyon Dam. To the southwest is the high cliffs of Glen Canyon and the Colorado River which continues its journey to Lees Ferry, Marble Canyon right before entering the most eastern edge of the Grand Canyon.
About Glen Canyon Dam and Its Bridge
Glen Canyon Dam was built to provide hydroelectricity and to regulate river flow. It was completed in 1966 after ten years of around the clock construction. The dam is one of the largest in the country with a length of 1,560 feet and a height of 587 feet.
The base of the dam is 300 feet wide. Until the adjacent Glen Canyon Bridge was completed, it took a 192 mile drive to reach the other side. The bridge spans 1,271 feet and is about 700 feet above the Colorado River.
Directions To Glen Canyon Dam Overlook
From Page. Once in Page, Arizona, pass Wal-Mart and make the first right-hand turn to Lake Powell Blvd. Pass NPS headquarters, then left at the Denny's onto Scenic View Drive. Make a right at the scenic view sign and park in the parking lot.
Related Topics and Nearby Attractions
Page Arizona
Lake Powell
Map and Directions to Page Arizona
Page Arizona and Lake Powell Weather
Horseshoe Bend
Antelope Slot Canyon