Hoover Dam Map & Directions
Directions To Hoover Dam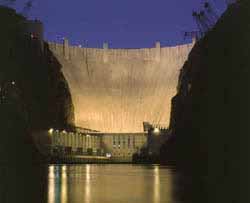 Hoover Dam is located on the border between Nevada and Arizona and creates Lake Mead. Approaching the dam from either side involves steep descents and climbs through mountains with tight turns, so drive slowly with caution.
Traffic can cause backups during the spring and summer. As of late 2007, construction is still taking place on the Hoover Dam Bypass Bridge, so there can be heavy backups until construction has been completed. Vehicles may be required to undergo a security inspection before crossing the dam.
From Las Vegas. The dam is about 30 miles southeast of Las Vegas. Take I-515 Southeast towards Henderson and Boulder City. Just beyond Henderson, I-515 becomes US 93 which will take you to Boulder City. After entering Boulder City, make a left turn at the 2nd traffic light which is a continuation of US 93. Proceed until you reach the dam.
From Kingman AZ. Take I-40 Eastbound to Highway 93, Beale Road Exit 48. Continue the 80 mile drive to Hoover Dam on Highway 93.
Parking At Hoover Dam
If you are going to stop and tour the dam, there is a parking garage on the Nevada side of the dam tucked into a canyon across the road from the Visitor Center. There is a cash-only parking fee.
Oversized vehicles, motor homes and vehicles with trailers must use the parking lots on the Arizona side of the dam. There are also pull-off view spots on the Arizona.
Getting To The Visitor Center
Walk towards the dam from the parking garage or the oversize vehicle parking lot. An elevator or escalator will take you down to the reception lobby where you can purchase tour tickets. All tourists must go through a security screening before entering the Visitor Center.
For More Information
Guided Hoover Dam Tours
If you are staying in Las Vegas, there are many guided Hoover Dam Tours that provide transportation and escorted tours. Tours of Lake Mead are also available.
Related Hoover Dam Interest
Hoover Dam
Building Hoover Dam
Hoover Dam Diversion Tunnels
Hoover Dam High Scalers
Hoover Dam Historic Photos
Hoover Dam Map
Hoover Dam Men
Hoover Dam Pictures
Along The Colorado River