Once known as Antelope Station, Stanton experienced gold rush fever in 1863 in the form of a gold strike. What was once a stage stop transformed over night into a western boomtown thanks to its rather large deposits of gold. Located about twenty miles north of Wickenburg, Stanton is, today, part of an RV park, but still retains its ghostly allure for travelers in search of an authentic Arizona ghost town experience.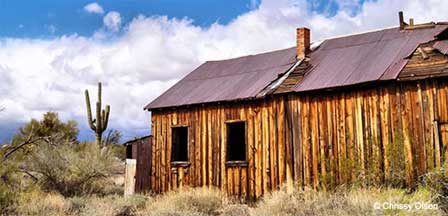 Striking It Rich in 1863
Legend has it that when a prospector left his group to go round up some mules on a nearby hill, he literally stumbled on gold nuggets lying right atop the soil. The subsequent strike, on the aptly named Rich Hill, allowed the group to dig up $100,000 of gold in less than six months. This mother load is how Antelope Station was born.
Enter the Town Boss
It didn't take long for Charles P. Stanton to transform the town when he entered in 1871. Not only did this soon-to-be town boss change the name to suit himself, he took on various roles such as postmaster, deputy, and justice of the peace. However, history does not paint a kindly picture of this man of many hats. Apparently, Mr. Stanton had some persuasive "friends" that allowed him to quietly take over the town. This band of thugs helped him stage various dirty deals that landed him a rather poor reputation, even by Old Western standards. Stanton's hold on the town ended in 1886 when he was shot to death in his own store by a man claiming to be avenging an insult Stanton had hurled at the man's sister.
Nevertheless, by the 1890s, Stanton was a legitimate community filled with miners, their families, a general store, a stamp mill, a hotel, a boarding house, and several other buildings. Unfortunately, the town declined and eventually died out when the gold had dried up.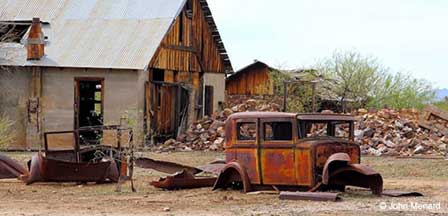 The Ghost Town Today
Many of Stanton's buildings are in terrific condition due to the fact that the town was closed to the public for decades. Today, Stanton is owned by the Lost Dutchman's Mining Association and has been transformed into a campground for RVs. Many recreational prospectors visit the site to try their luck. The town's original structures are in use for campers. The camp's office was once the stage stop. A recreation hall now occupies the building that was once home to the town saloon. The former Hotel Stanton is the present residence of a small library, a kitchenette, and a game room.
Visiting Stanton provides travelers with a great view into Arizona's wild west past. This modern-day ghost town has a ghostly aura that attracts a thousands of visitors particularly during the winter season.
Directions To Stanton Ghost Town
From Phoenix. Take US 60 (Grand Avenue) Northwest to Wickenburg which is about 53 miles from Phoenix. At Wickenburg, take US 93 West to Arizona 89. Take Arizona Route 89 North. Turn right onto Stanton Road and travel about 15 miles to Stanton.