Vulture City, Arizona. Ghost Town Near Wickenburg.
Exuding that unmistakable atmosphere of a western ghost town, Maricopa County's Vulture City was once one of the richest gold mines in the west. Discovered in 1863 by Henry Wickenburg, Vulture Mine, which is near Wickenburg, Arizona was one of the Arizona Territory's richest mines and it was still producing, at decreased levels, until World War II. Today, this ghost town provides visitors with the opportunity to see a genuine vision of what life was like in an old west mining town. Many buildings remain in tact and there is also a fair amount of mining equipment to see. Unlike many ghost towns today, Vulture City has not been remade into a "rebuilt tourist" destination-it still retains its authenticity and many visitors come to enjoy it throughout the year.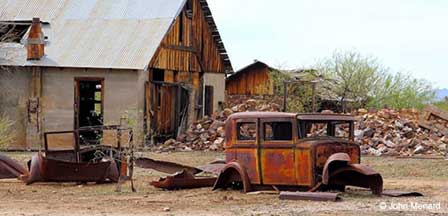 Vulture Mine's Early Days
Despite early management problems, Vulture Mine's wealth allowed the camp to blossom into a self-contained town by 1880. Along with roughly six boarding houses, the town boasted a cookhouse and mess hall, a blacksmith shop, several buildings associated with the mine, stores, offices, saloons, and even a school. By this time there were about three hundred miners and their families living in town. Vulture City peaked with a population of about 5,000 residents. Owner after owner would face many challenges turning a profit with the mine over the next several decades as the main gold vein was lost. However, the mine was not officially shut down until 1942. Throughout its lifespan, the mines at Vulture City officially produced upwards of two hundred million dollars in gold.
Vulture City Today
Although privately owned, this old ghost town is open to the public for a small fee. Because it rates so highly among ghost town enthusiasts, Vulture City is a big Arizona attraction. There are a variety of town highlights that should not be missed on a visit. Henry Wickenburg's cabin still remains as is the nearby ironwood hanging tree where 18 men were hung on charges of high grading (stealing ore).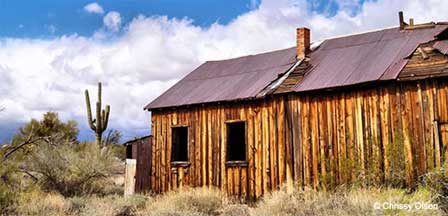 There are many buildings in their original form around the site. Many are unstable as they have not been restored. The camp's largest structure is a two-story building that once housed the mine's office. This building also contained the assay office as well as an underground vault that once stored bars of gold. The blacksmith's shop can also be seen as well as many other historic structures. Many of the office workers' and mine worker's possessions can be seen in the dwellings where they once lived. Visitors will come across many period relics including tables, chairs, clothes, and other antique objects that nearly bring the rooms back to life.
Getting To Vulture City
From Phoenix. Take US 60 (Grand Avenue) northwest to Wickenburg, Arizona which is about 50 miles from downtown Phoenix. Upon reaching Wickenburg continue west on US 60 for about 2.5 miles to Vulture Mine Road. Turn south and travel about 12 miles to Vulture City. Vulture City is open to visitors from September through June. Nominal fees are charged to tour the town.
Related Wickenburg Interest
Wickenburg Arizona
Wickenburg Jeep Tours
Rancho de Los Caballeros Guest Ranch
Stanton Ghost Town
Vulture Mine
Wickenburg Dude Ranches
Wickenburg Horseback Riding
Wickenburg Weather Info
Metro Phoenix