Arizona's Mystery of the Lost Dutchman's Mine
Cryptic clues from a nineteenth century German prospector have lured a myriad of treasure hunters to the Superstition Mountains south in search of gold. The legend of the Lost Dutchman Mine is well-known to Arizonans. Even today, although mineral prospecting was banned in 1983, many travelers head south of Phoenix to these mysterious mountains to see if they just might stumble on this gold mine of mythical proportions.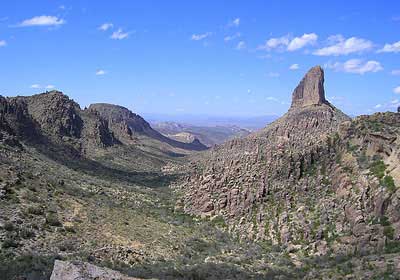 Weaver's Needle, Superstition Mountains. Creative Commons
The Dutchman
Arizona has a rich lore surrounding lost mines brimming with untapped stores of gold. But perhaps, none of these has so famous a name as the Lost Dutchman's Mine. The Dutchman was actually a German miner who dedicated much of his life to searching the Superstition Mountains for gold. Apparently, sources of his time claim he found quite a load and he would saunter into Phoenix with quantities of rich gold ore.
Jacob Waltz was born in Germany in c. 1910. Although no birth records exist for him, he is listed on various census records. He traveled to America in 1939. After searching in several southern goldfields hoping to strike it rich, Waltz filed for American citizenship in 1948 in Natchez, Mississippi. From here, the miner headed west to California. He headed for Arizona with a prospecting party bent on finding gold in the Bradshaw Mountains.
In 1868 Waltz made a homestead claim on 160 acres north of the Salt River. Legend has it that Waltz prospected in the nearby mountains every winter from the time he settled here to 1886. Apparently, Waltz discovered his infamous mine on one of these forays. Leaving few notes of clues about the location of the mine, Waltz died in Phoenix in1891.
The Dutchman's Clues
According to the legendary story, Waltz left the following clues about the location of his mine:
"From my mine you can see the military trail, but from the military trail you can not see my mine. The rays of the setting sun shine into the entrance of my mine. There is a trick in the trail to my mine. My mine is located in a north-trending canyon. There is a rock face on the trail to my mine."
Visiting the Dutchman's Country Today
Although some experts believe that the Lost Dutchman's Mine is actually none other than the wealthy Peraltas Cache of these mountains, others vehemently believe the mine still remains a hidden mine that has eluded treasure hunters for decades. The area of the Superstition Mountains Wilderness contains 242 square miles of rough mountainous terrain. Finding the mine would not have been an easy task at any time.
The legend of the mine has only been enhanced by those who have searched for it to no avail. The aptly named mountains have posed many dangers to treasure hunters from the long-ago Apaches who massacred many in region to the relentless heat and dangers of the landscape. Visitors today may not strike it rich, but they will enjoy a memorable trip to these magical mountains that perch with timeless beauty at the far east of the Valley of the Sun next to Apache Junction, Arizona.
Getting There
The Superstition Mountains are located about 35 miles southeast of Phoenix and east of Apache Junction. Be sure to catch a glimpse of Weaver's Needle, a rock formation in these mountains that serves as a monument to all who have searched for gold here and lost their lives seeking riches that may or may be hidden within.
Related Apache Junction Interest
Apache Junction Arizona
Apache Trail
Apache Junction Horseback Riding
Apache Junction Map
Apache Junction Renaissance Festival
Apache Junction Weather Info
Fishing Near Apache Junction
Goldfield Ghost Town
Lost Dutchman Mine
Lost Dutchman State Park
Superstition Mountain
Apache Junction Chamber
More Information
Metro Phoenix