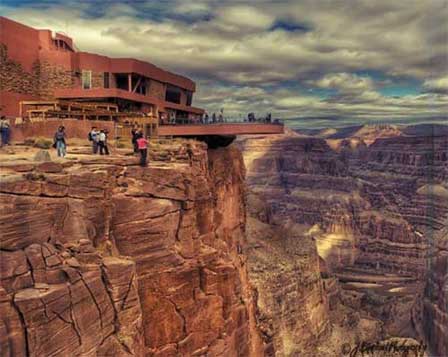 Grand Canyon West Skywalk. © Jennifer Kirkland
Skywalk. One of the world's engineering marvels. Walk out on a glass bottom bridge extending 70 feet out from the canyon's edge into a vast expanse of nothingness. Standing on see-through glass looking 4,000 down to the canyon floor and a small ribbon of the Colorado River will give you a sense of flying.
If you have a fear of height, Skywalk is not for you. It's best you sit back and admire this incredible structure from the outside. Stepping out onto the crystal-clear glass-bottomed cantilever will definitely feed the adrenalin. For those that dare, walking the length of this 10 foot wide marvel will be an incredible experience.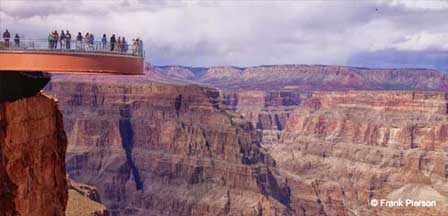 Skywalk is Incredibly Strong and Safe
Skywalk is engineered to carry a weight of 71 million pounds. That would be sturdy enough to to hold the weight of 12 fully-loaded 747 commercial jets. It can sustain winds of over 100 miles per hour from eight different directions.
It is designed to withstand an 8.0 magnitude earthquake within 50 miles of the epicenter. There are over a millions pounds of steel that reinforce the entire structure. The bottom tempered glass is several inches thick with five-foot tall glass railings. The cost to engineer, design, and build Skywalk was over $30 Million.
Fees, Guide Lines and Other Attractions
Visitors are not permitted to carry cell phones, cameras and other metal objects onto Skywalk. Dropping them may scratch the glass surfaces. Metal detectors are in use and lockers are provided to guests to secure items. Professional photographers are typically on the bridge and will take pictures upon request. Fees apply.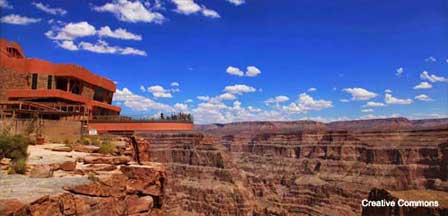 There are several fee options that include other attraction. When arriving at the visitors center, the fee options are explained. Entry fees to Grand Canyon West are also in effect. Click here to see current options and fees at Grand Canyon West.
Upon arrival at the visitor's center, buses transport guests to three stops on a jump-on, jump-off basis during the open hours. The buses serve Eagle Point, Skywalk, Guano Point and Hualapai Ranch. Your time at Skywalk is limited, but time at the viewpoints are not.
The Hualapai Nation owns and operates Grand Canyon West with a vision toward sharing the splendor and wonder of the canyon lands and educating the public about their ancestral past. Their goal is to balance nature, form, and function while protecting tribal values and culture.
More Information
Grand Canyon West Rim
Map and Directions
Grand Canyon West
888-868-9378
(928) 769-2636