The Grand Canyon West Rim is very remote. There are no services, gas stations. convenience markets or fast food restaurants after leaving Kingman, Arizona along Pierce Valley or Diamond Bar Roads which will be about 50 to 70 miles depending upon route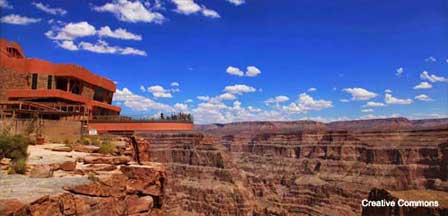 There is about a 14 mile stretch of unpaved road leading to the Grand Canyon West Airport and and the entrance. Private vehicles are not permitted past the entrance and Welcome Center. Visitors must take the Hop-On-Hop-Off Shuttle Bus to the Rim. Entrance Fee Package Options are available at the Welcome Center.
Make sure your vehicle is in good working order with a full tank of gas. Cell phone service is questionable, so make sure to have a hard copy direction routes. If you are coming from Las Vegas, there is a "Park & Ride" at Dolan Springs about 1 hour from Las Vegas.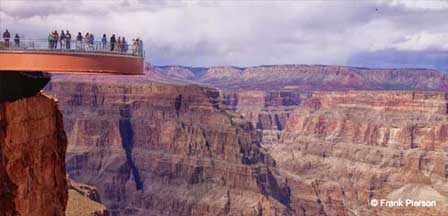 There are many tour companies operating out of Las Vegas that offer tours to Grand Canyon West and Skywalk.
Grand Canyon West Location Map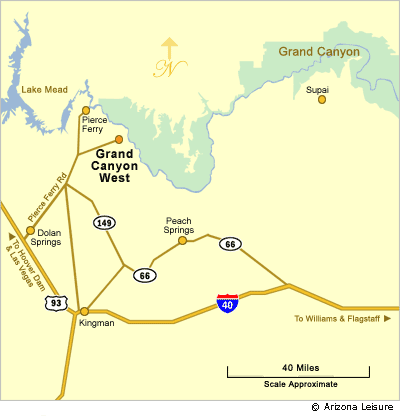 Getting To The West Rim From Nevada
From Las Vegas NV. Total Miles 121
South on US Highway 93 for 32 Miles
Cross Hoover Dam. Continue South on US93 for 40 Miles
Left (North) on Pierce Ferry Road for 28 Miles (Mile Marker 42)
Right (East) on Diamond Bar Road for 21 Miles
Diamond Bar ends at the Grand Canyon West Entrance
From Laughlin NV. Total Miles 103
East on Arizona Highway 68 for 28 Miles
North on US HIghway 93 toward Las Vegas for 26 Miles
Right (North) on Pierce Ferry Road for 28 miles (mile marker 42)
Right (East) on Diamond Bar Road for 21 Miles
Diamond Bar ends at the Grand Canyon West Entrance
Getting To Grand Canyon West From Arizona
From Flagstaff AZ. Total Miles 216
West on Interstate 40 (I 40) to Kingman, AZ. 146 Miles
At Kingman, North on Stockton Hill Road for 42 Miles
Turn right (north) tp Pierce Ferry Road for 7 Miles
Turn right (East) on Diamond Bar Road for 21 Miles
Diamond Bar ends at the Grand Canyon West Entrance
From Kingman AZ. Total Miles 70
North on Stockton Hill Road for 42 Miles
Turn right (north) tp Pierce Ferry Road for 7 Miles
Turn right (East) on Diamond Bar Road for 21 Miles
Diamond Bar ends at the Grand Canyon West Entrance
From Lake Havasu AZ. Total Miles 128
North on US Highway 95 for 19 Miles
East on Interstate 40 (I 40) for 39 Miles
At Kingman, North on Stockton Hill Road for 42 Miles
Turn right (north) tp Pierce Ferry Road for 7 Miles
Turn right (East) on Diamond Bar Road for 21 Miles
Diamond Bar ends at the Grand Canyon West Entrance
From Phoenix AZ. Total Miles 253
West on Grand Avenue (turns into US-60) for 40 Miles
West on US 60 for 12 Miles
North on US Highway 93 at Wickenburg for 108 Miles
West on I-40 towards Kingman for 23 Miles
At Kingman, North on Stockton Hill Road for 42 Miles
Turn right (north) tp Pierce Ferry Road for 7 Miles
Turn right (East) on Diamond Bar Road for 21 Miles
Diamond Bar ends at the Grand Canyon West Entrance
More Information, Fees and Questions
Grand Canyon West Rim
West Rim Sky Walk
Grand Canyon
888-868-9378
(928) 769-2636