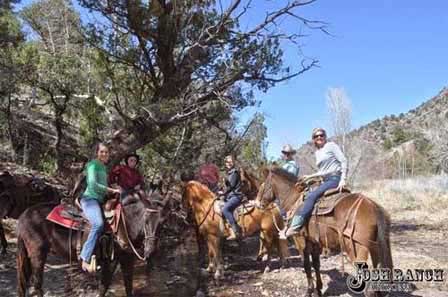 Josh Ranch in Alpine Arizona. © Josh Ranch
This is a uniquely different type of guest ranch. They call it "The Great Outdoors With Luxury Built In". Family horseback riding vacations and day trips exploring nature like the frontier forefathers if America. It's all about activities in the great outdoors, Alpine, Arizona style.
This is not a dude ranch but a facility that offers all the activity you can handle across 110 acres of private lush meadows, grazing and cool and refreshing mountain air. Whether you come for the day, week, month or an entire season.
Rent one of the cabins or stay at the RV Park. Choose your own way to enjoy the abundance of activities. Go horseback riding to a trout fishing destination. Go bike riding across the rolling hills of the Arizona White Mountains.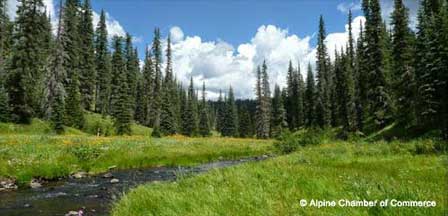 We offer some of the best Stream and Lake fishing in the state, and we are permitted by the White Mountain Apache Tribe to guide you on the best Trout and Small Mouth Bass fishing in the state! Perfect crystal clear streams and the unpopulated areas ensure a good catch, time and time again.
Come escape the hot Arizona summer heat with a cool Fishing or Fly Fishing Vacation and Day Trip !Nothing lights up faces like watching a young child reel in their first fish. Saddle and Stream has the best locations in Northern Arizona for both Bass and Trout fishing.
Josh Ranch
928-587-3799
Related Alpine Interest
Alpine Arizona
Alpine Arizona Cabins
Alpine Arizona RV Parks
Alpine Arizona Weather
Alpine Arizona Bed & Breakfast
Hannagan RV Campground
Josh Ranch Alpine Arizona
Sprucedale Guest Ranch Alpine