Historic Downtown Flagstaff
Downtown Flagstaff represents history of hundred of years where historic red brick buildings, stores and landmarks have stood for decades and some for over 100 years.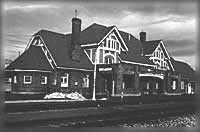 Downtown is an active spot with an abundance of shops, galleries, clothing stores, adventure outfitters, restaurants and lively nightlife. After all Flagstaff is a college town with thousands of Northern Arizona University students that know how to balance fun with academics.
Be sure to visit the Vintage Train Station where over 100 strains stop each week. Local historians Dick and Sherry Magnum personally conduct Historic Walking Tours biweekly. The train station also houses the Flagstaff Visitors Center where vacationers and travelers to Flagstaff can get detailed area information.
Nativity of the Blessed Virgin Mary Chapel
Corner of Cherry Avenue & Beaver Street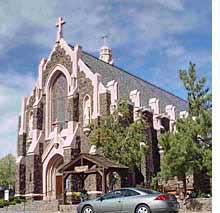 There was no catholic priest assigned to Flagstaff until about 1889. Before then a Jesuit Father visited Flagstaff several times to say Mass at private residences of which the first of recor was in 1887 at the home of P.J. Brannen. Flagstaff residents petitioned to the Bishop to assign a permanent priest to Flagstaff. He challenged residents to build a church and he would then assign a priest.
P.J. Brannen donated a plot of land south of the railroad tracks and plans were created and the first church was built at Ellery and Beaver Streets in 1888 with much of the brickwork done by Father Carlo M. Ferrari. The first Mass was said at the new church on Christmas, 1888 and in honor of that day, the church was named "Church of the Nativity".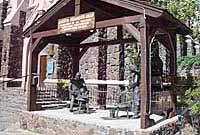 Realizing that Flagstaff's population was increasing and in the future a new larger church would have to be built to accommodate an enlarging parish membership, the church purchased land north of the railroad tracks. The new Church of the Nativity was completed at the corner of Cherry and Beaver Streets where it stands today. The church welcomes visitor tours and holds a regular Mass schedule.
The named evolved to "Nativity of the Blessed Virgin Mary" and remains a historic example of Gothic architecture. The church welcomes visitors to tour the chapel and to attend it's regular schedule of Masses.
Outdoor Weekend Movies Downtown
This is nostalgic small town America… Flagstaff style. Each Saturday and Sunday, families and groups come early to Historic Downtown brick Heritage Square to stakeout their favorite s pots to watch a good family movie. As they settle-in people are strolling about downtown among the shops, stores, restaurants and nightlife venues.
Kids frolic about, people chat and layout their blankets and folding chairs and munch on treats. As the sun goes down people gather-up to watch the movie projected on a white sheet hung from the side of the Babbit building. It's always free, sponsored by the Flagstaff Downtown Business Alliance and the movie is always family-friendly. Now that's the way to enjoy a show.