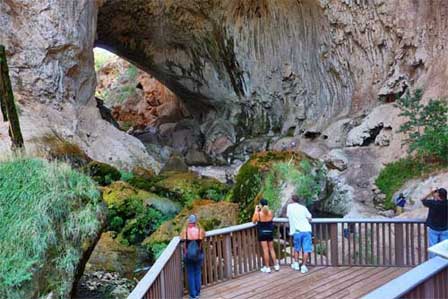 View From Observation Deck. © Brent Schmidt
Tonto Natural Bridge State Park is located off of Arizona State Route 87 about 10 miles north of Payson, Arizona. Payson, AZ is the heart of Arizona Rim Country that sets just below the Mogollon Rim. The richly forested cool high mountain is loaded with outdoor adventure.
Tonto Natural Bridge is a geological wonder and is believed to be the largest natural travertine bridge in the world. Its sheer size can only be appreciated by viewing it in person. Photos do not capture the true size and beauty of this natural specimen. The natural bridge is 183 feet high above a 400 foot tunnel that is 159 wide at its widest point.
Pine Creek passes through the tunnel and there are several water falls that cascade into the creek. The bridge is tucked away within a valley of pine trees and lush vegetation.
Facilities and Convenience
There is a contact station, historic lodge and gift shop at the entrance to the park. There are several parking lots that connect to paved paths with multiple view points. Viewing and resting benches, restrooms and drinking water are conveniently located near parking areas and along the paved paths. Public day-use picnic areas are also spread through the park.
Other than the steep and strenuous hiking trails and creek play areas the paved paths and amenities are accessible. Swimming is permitted in some areas of the creek, but is not permitted under the Tonto Natural Bridge.
Tonto Natural Bridge Facilities Map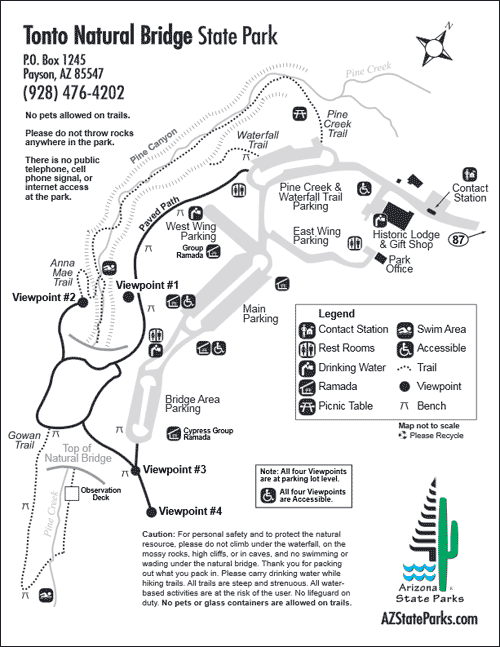 Hours of Operation and Visitation
Tonto Natural Bridge State Park is open 7 days per week from 8:00 AM to 6:00 PM. Last entry is at 5:00 PM. Summer hours are May 24 until September 1. Hours and services are subject to change without notice. Call the park to verify: (928) 476-4202 before visiting.
A great time to visit is in the spring around mid-April when fruit trees are in blossom. During the peak of summer, high temperatures run in the mid-90s and sometimes reach above 100 degrees. Fall is a beautiful time when golden colors arrive. Highs temperatures in October are in the 70s with lows falling to the 40s. Winter is cold with heavy snow always a possibility.
Hiking Trails
There are three relatively short hiking trails each with steep, strenuous portions. They are surrounded by pine, canyon walls and lush vegetation that can create some slippery areas. Exercise caution and watch children carefully. Pets are not permitted on any trails. You can spend as much time as preferred on each trail but the recommended average time is about one hour each. Wear good hiking shoes and be prepared to get them wet.
Pine Creek Trail. About 1/2 mile long. Leads to Pine Creek.
Waterfall Trail. About 300 feet long. Uneven steps.
Anna Mae Trail. About 500 feet long. Connects to Pine Creek Trail and leads to the natural bridge.
Gowan Trail. About 2,200 feet long up and down. Steep and rough. It
leads to the observation deck at the bottom of the creek.
Day Use Picnic Areas
Five public use ramadas with picnic tables and BBQ grills are available.
Cypress Ramada. (1) 20' x 30' Ramada. First come, first serve.
(3) 10' x 10' Ramadas. First come, first serve each.
Group Ramada. By reservation only. Fees apply. 20' x 40' ramada.
Contact and Related Information
Tonto Natural Bridge
P.O. Box 1245
Payson, AZ 85547
(928) 476-4202
Related Payson Interest
Payson Arizona
Aspen RV Campground
Canyon Point RV Campground
Christopher Creek
Christopher Creek RV Campground
Houston Mesa RV Campground
Mogollon RV Campground
Payson Area Map
Payson Area RV Parks
Payson Bed and Breakfasts
Payson Cabin Rentals
Payson Pictures
Payson RV Campgrounds
Payson Vacation Rentals
Rim RV Campground Payson
Sinkhole RV Campground
Spillway RV Campground
Tonto Natural Bridge Park
Strawberry Arizona
Weather In Payson