Montezuma Castle & Montezuma Well.Credit The Ancient Sinagua, Not The Aztecs.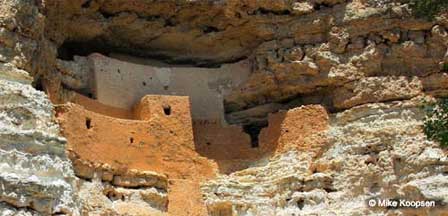 The ancient and preserved cliff dwelling at Montezuma Castle and the stone dwellings around the rim of Montezuma Well were built by the prehistoric Sinagua Indians and not the Aztecs. These attractions about a hundred miles north of Phoenix and near Sedona carry the name "Montezuma" but as far as archaeologists know, the ruler of the Aztecs never laid eyes on Arizona.
However, the ancient, well-preserved ruins are worth the Sunday drive. Home to the Sinagua Indians centuries ago, this 20 room "castle"was built into the limestone cliffs just north of Camp Verde, Arizona to the east side of Interstate 17. The Sinagua were agriculturists who farmed the land below the cliffs. Through a series of ladders, the Sinaguans would climb up the cliffs to the castle and pull the ladders up behind them. The strategy was for protection against surprised invasions by other nomadic tribes.
Directions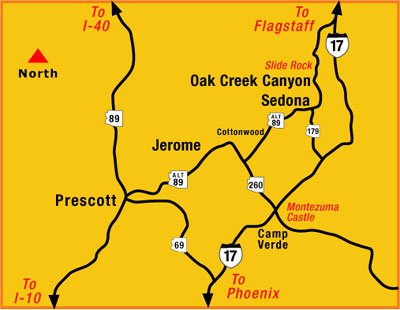 Additional Sedona Area Information
Map & Directions Oak Creek Trail
Oak Creek Canyon Map & Directions
Oak Creek Canyon Photos By Koopsen
Oak Creek Canyon Vista Point
Sedona Aerial Photos By Koopsen
Sedona Winter Photos By Koopsen
Verde Canyon Railroad
The Wonder Of Sedona & Oak Creek