Slide Rock State Park is located about 7 miles north of Sedona, Arizona along Highway 89A in Oak Creek Canyon which has been named One of America's Most Scenic Drives. If you love picnicking and water recreation in astoundingly beautiful landscape, this is a natural attraction you don't want to miss.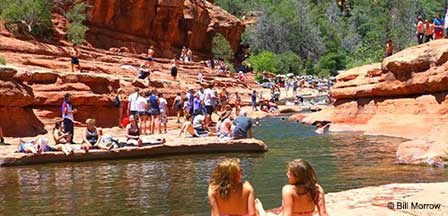 Get ready for a blast for the whole family. When summer arrives, lucky folks from the desert cities flock to this cool paradise. "Slide Rock" gets its name after a natural water slide that gradually descends down Oak Creek. Rocks and boulders that have been worn smooth over millions of years by flowing water line the bottom of the creek forming a slippery natural water chute.
The fun and excitement never ends as swimmers briskly slide down the chute until it levels out and then they trek back to the starting point and do it again and again. There are places where cliff jumping into deep water pools is a blast. If you plan on swimming and sliding down Slide Rock, wear old tennies and a pair of old cutoff jeans. It's wise to take a change of clothes.
Picnic Recreation At Slide Rock
It is beautiful here with red rock cliffs and canyon walls rising from the creek. Slide Rock State Park is more fun than just frolicking in the water. The park includes picnic tables, restrooms, volleyball courts, and even a market that sells snacks, picnic supplies and even apples that grow in the nearby orchards. Apple tree blossoms arrive in mid-April and apples are harvested in September and October.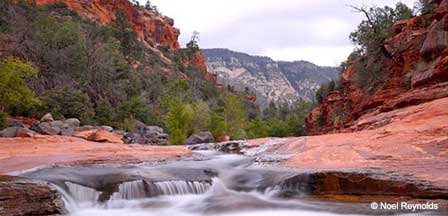 Fishing is permitted in Oak Creek that contains Rainbow Trout. A fishing license is required. There are short hiking trails around the creek that meander through unspoiled back country views and the old Pendley homestead built in 1907.
There are cliffs west of the creek that will reward you with views down Oak Creek Canyon. And when you're done chuting the slide, hiking, eating and there is still daylight, swim or just relax in the refreshing water pools along Oak Creek.
What Are The Temperatures at Slide Rock?
Slide Rock Park sits at an elevation of about 4.930 feet creating four distinct seasons. June, July, and August are the warmest months with high temperatures in the high 80s to mid-90s. Reaching 100 degrees is uncommon.
Park visits begin to diminish after Labor Day weekend when lower temperatures signal the beginning of the fall season. Temperatures in late September and November bring highs ranging from the 60s to low 70s.
Winter brings cold weather and snowfall. Swimming in the creek then is only for the daring. When Oak Creek Canyon is blanketed in snow, it becomes a photographers dream. See the Sedona Weather Chart for approximate seasonal temperatures by month. Sedona sets at a slightly lower elevation so the temperatures at Slide Rock will be a few degrees cooler.
Things To Know When Visiting Slide Rock
Nominal fees apply. Normal parks hours are 9:00 AM to 7 PM with last entry into the park at 6:00 PM. Fees and hours are subject to change without notice. Call the Park at (928) 282-3034 to verify.
Expect peak crowds during the summer months. The parking lot can fill by mid-to-late morning. It is possible that access could be temporarily unavailable if too crowded.
Pets and glass containers are prohibited in the swimming areas. Dogs are permitted in other places with leash at all times. Propane, charcoal, and wood fires are prohibited.
Slide Rock State Park
6871 N. Highway 89A
Sedona, Arizona 86336
(928) 282-3034
Slide Rock Map
Includes parking and facilities location. It further explains park rules, guidelines, swimming areas and hiking trail descriptions.
How To Get To Slide Rock
From Phoenix. Take Interstate 17 North to Highway 179. Take 179 West through Sedona to Highway 89A which will be the entry into Oak Creek Canyon. Slide Rock State Park will be about 7 miles from Sedona AZ. Driving distance from Phoenix is about 110-125 miles.
Related Reading and Interest
Oak Creek Canyon Map
Oak Creek Canyon Scenic Drive
West Fork Oak Creek Hiking Trail
Sedona Arizona
Oak Creek Canyon Photos