Map, Directions and Location of The West Fork Oak Creek Trail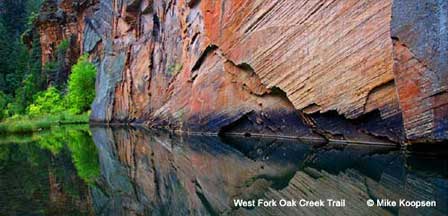 The West Fork Oak Creek Trail in Oak Creek Canyon is located just 9.5 miles north of Sedona, Arizona and 17.5 miles south of Flagstaff, Arizona on Highway 89A. It is open all year. Regular hours are 9:00 AM to 8:00 PM with an onsite host at the trailhead. Generally the gate is open by 8:00 AM with a self-pay system. At the time this article was written, the fee was $2.00 per person.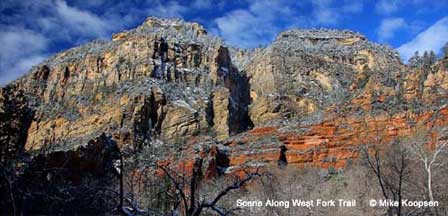 The West Fork Trailhead is "Call of the Canyon" picnic area which is operated by an onsite concessionaire. There are 6 picnic tables and public toilets with a public parking area. There is no drinking water. At peak season, the parking lot can get full early on weekends. Best time to picnic or go hiking is during the week.
GPS: N34° 59' 25.3314", W-111° 44' 14.244"
Location Map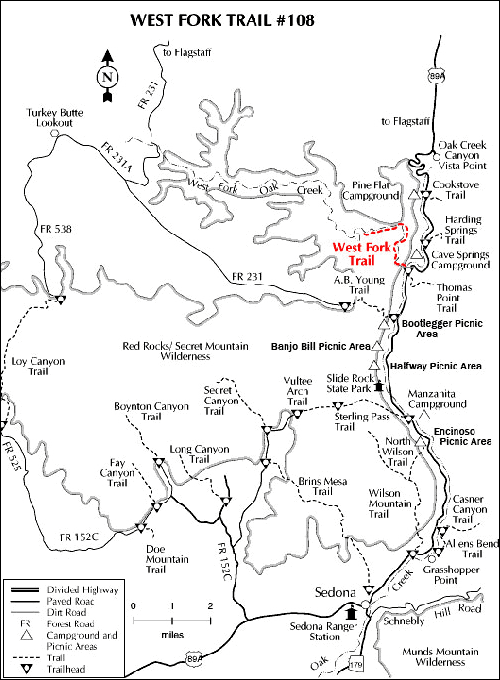 Related Reading
West Fork Oak Creek Trail Oveview
Oak Creek Canyon Photos By Mike Koopsen
Other Oak Creek Canyon Hiking Trails
West Fork Detail: Coconino National Forest
Red Rock Ranger District
P.O. Box 20429
8375 State Route 179
Sedona, AZ 86341
(928) 203-2900
Always call ahead for possible closures.
Related Sedona Interest
Sedona Arizona
Map & Directions Oak Creek Trail
Oak Creek Canyon Map & Directions
Oak Creek Canyon Photos By Koopsen
Oak Creek Canyon Vista Point
Sedona Aerial Photos By Koopsen
Sedona Winter Photos By Koopsen
Verde Canyon Railroad
The Wonder Of Sedona & Oak Creek